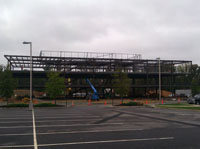 Construction is underway on a new medical office building in the West End.
The $16.5 million project is the latest phase of Reynolds Crossing, a mixed-use development at West Broad Street and Forest Avenue.
Sarge Reynolds, a principal of Reynolds Development, said the building is pre-leased and will be anchored by Bon Secours and Virginia Urology. Two other tenants will also occupy the three-story, 70,000-square-foot building when it is complete next summer.
"There is a lot of demand for medical office," Reynolds said. "It is well located to two major hospitals, Henrico Doctors and St. Mary's."
The new aluminum and glass office building at 6900 Forest Avenue was designed by Odell Associates and is being built by Kjellstrom & Lee.
It will be the first new construction on the 90-acre property since 2008, when Reynolds completed construction of two office buildings, a hotel and a retail property on the campus.
Combined with two existing office buildings on the site, the complex consists of 600,000 square feet of fully leased space.
Overall office vacancy in the Glenside/Broad Street area was at 8.6 percent in the third quarter, according to a market report from Cushman & Wakefield | Thalhimer. Vacancy for the entire Richmond area was 11.4 percent.
Tenants at Reynolds Crossing include the Reynolds Packaging Group, James River Insurance, Altria, Bon Secours and the Virginia Cancer Institute. The property is also home to restaurant Plaza Azteca and the 250-room Westin Richmond, which is part owned by Reynolds Development.
"The rest of the land is zoned for retail. We are just waiting for that world to come back," Reynolds said.
CB Richard Ellis is marketing 30 acres for retail development.
Reynolds Development formed as a partnership among Sarge Reynolds, his cousins Robert and Randy Reynolds, and their father Randolph Reynolds. Randolph is the grandson of Richard S. Reynolds, who founded Reynolds Metals.
The metals company moved its headquarters to the site on West Broad Street in 1958. Reynolds Metals was bought by Alcoa in 2000. Reynolds Development came together to buy the site in 2002 for $30 million. The company started new development in 2006.