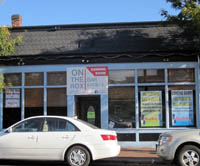 The owner of a Shockoe Bottom bar is hoping to pour some life into his faded block with a new restaurant.
Erik Brockdorff, who owns Tiki Bob's, is planning to open a bar and grill called On the Rox across the street from his bar at 119 N. 18th St.
The two-floor restaurant is set to open next month and will serve dinner and brunch and host local bands on the weekends.

Brockdorff said he's looking to change the general perception of Shockoe Bottom and get more residents to support local businesses.
"I still think it's a great area," he said. "People still want to live and work down here, and we should provide them with somewhere to go."
He hired local chef Mike Pendergrast to oversee the menu, which includes burgers, steaks, panini and seafood.
"There's not a place down here where you can get quality food with a neighborhood price," he said.
Brockdorff said he also plans to have a few local beers and wines on the menu.
On the Rox will have flat-screens TVs and black-and-white photos of Shockoe Bottom along the walls with seating downstairs for about 88 people.
A back room with a stage can house an additional 100 people.
"We'll have a country night with line dancing and have an instructor," he said.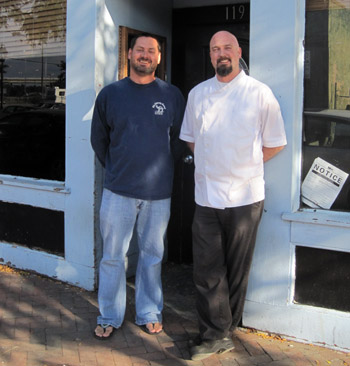 The restaurateur has owned the 13-year-old Tiki Bob's for the past five years. He started searching for a second location a while ago. And after checking out the Fan, Carytown, and even the former Richbrau location, Brockdorff decided to stay on his home turf.
"The concept for this neighborhood is a perfect fit," he said.
On the Rox is going in the former Element Lounge space, which closed in July after a six-year run. Brockdorff leased the 6,800-square-foot space at the end of August and is investing about $100,000.
The new restaurant is nestled along the same row as Mars Bar and the Fallout.
And with Mexican restaurant Margarita's opening in the same block Nov. 4 and a new bar now opened in the former Alley Katz space, Brockdorff thinks there's hope for 18th Street yet.
"It's been up and down with the neighborhood, but business is still strong," he said. "It's making a turn."
He plans to have a soft opening in a few weeks with a grand opening in mid-November.
And On the Rox isn't Brockdorff's last idea for bringing life back to the Bottom.
"Hopefully if this goes well we can expand to other locations and get Shockoe Bottom back to what it was," he said.