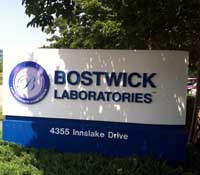 A New York private equity firm has acquired a majority stake of one of Richmond's biggest lab companies.
Metalmark Capital announced Tuesday that it is investing in Bostwick Laboratories. Details were sparse, and financial terms of the investment were not disclosed. The exact role that the company's current management will play is unclear.
Metalmark's announcement said Bostwick founder and CEO David Bostwick, a well known urologist, will remain a majority shareholder.
David Bostwick said in a prepared statement that the investment from Metalmark will give the company the capital it needs to pursue its growth strategy.
"I look forward to working with the team and remaining actively involved in driving the business forward," Bostwick said in his statement.
Bostwick was founded in 1999 and for a time was one of Richmond's fastest growing companies, filling a niche in cancer diagnosis testing.
The company at one point had 750 employees and revenue of more than $100 million.
Questions about Bostwick's future have circulated this year as it cut costs and unloaded real estate.
It moved out of one of its local offices and put several of its labs up for sale. It then received a $43 million round of financing from a New York health-care lending company.
In addition to its 65,000-square-foot headquarters in Innsbrook, Bostwick has labs in Uniondale, N.Y., El Paso and Orlando.
Bostwick also owns a Midlothian company called AIBioTech, which it acquired from Commonwealth Biotechnologies in 2009. How this deal will affect AIB is unclear.
Michael Schwartz is a BizSense reporter. Please send news tips to [email protected]