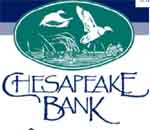 The former head of Bank of Virginia is back in the game — this time at a Kilmarnock bank that just set up shop in Richmond.
Frank Bell, the former chief executive of Midlothian-based Bank of Virginia, is now the senior vice president heading up the Richmond territory for Chesapeake Bank.
BizSense reported in June on Chesapeake Bank's plans for its first Richmond office.
"We are open for business," said Bell, who has worked in the Richmond banking market since the 1980s. Bell led Bank of Virginia until December, when a group of investors bought a majority stake and brought in a new management team. Bell was made vice chairman but resigned in April.
Chesapeake Bank, a $600 million institution, is testing the Richmond waters with a two-man loan production office. For now, the office will only do lending and will target small- to medium-size businesses. It will not take deposits or operate as a normal bank branch.
"We want to grow it conservatively," Bell said. "We do not have the desire to end up with a bunch of locations all over the place."
Chesapeake Bank enters an already competitive Richmond banking market that has been heating up of late.
Cincinnati-based Fifth Third Bank recently set up shop in Richmond with a single loan officer. Hampton Roads-based TowneBank entered the market last week with an acquisition of a local mortgage company. SonaBank of McLean just opened a branch in Midlothian. And Christiansburg-based StellarOne Bank and Northern Virginia-based Middleburg Bank have revealed plans to open their first branches locally.
Chesapeake Bank chief executive Jeff Szyperski has said it will likely look to open a full-fledged Richmond down the road.
The bank is leasing about 1,000 square feet in an office building in Glen Forest. It will eventually look for a more visible space, Bell said, but hopes to stay in that part of town.
Chesapeake Bank, which is owned by Chesapeake Financial Shares, has 210 employees at 11 branches across the Middle Peninsula, Northern Neck and Williamsburg.
The company also has wealth management and merchant-processing divisions that it thinks can find business in Richmond.
Michael Schwartz covers banking for RBS. Please send news tips to [email protected]