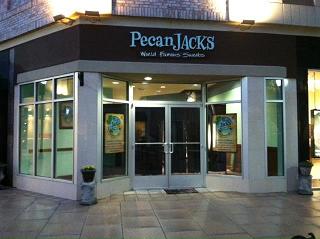 Stony Point Fashion Park  just got a little sweeter.
Praline and candy shop Pecan Jacks opened a pop-up store Oct. 23 at the  south side mall.
The shop is across from Starbucks and will be open until Dec. 31, selling pralines, chocolate potato chips, liquor cakes, Belmont peanuts, gourmet saltwater taffy, pecans, truffles and other gourmet chocolates.
Pecan Jacks, which launched in December 2009, sells candy online and operates booths across Virginia.
The business will have booths at festivals and markets in Washington, Montpelier, Virginia Beach and Chantilly starting Nov. 5 and running through December.
The mall also says on its web site that chocolate retailer See's Candies will soon open next to Victoria's Secret.
Also coming to the mall are American flag store Old Glory and jewelry and art retailer Quirks of Art.