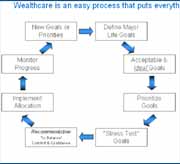 Most companies avoid lawsuits like the plague.
But PIEtech, a financial software developer in Powhatan, wants a federal judge to let it in on the legal wrangling against a cross-town competitor. In a rare legal maneuver, PIEtech wants to become a defendant in a patent infringement case that could force it to defend its main product.
Meanwhile, PIEtech's lawyers have called into question the validity of the patents of that competitor, downtown-based Wealthcare Capital Management, setting up a courtroom showdown this month.
The drama began in August, when Wealthcare sued Wall Street giant UBS Financial for allegedly infringing on two patents it was issued this summer.

The patents for "Method and System for Financial Advising" involve a process of gathering information from the firm's clients, including their background and financial goals, plugging that information into a software program and analyzing the results to recommend a wealth management plan.
At first glance, that sounds a lot like what most financial advisers do. And that was enough to draw the ire of PIEtech and chief executive Bob Curtis. Add to that the fact that UBS is PIEtech's client, and that pushed the company over the edge.
Despite the fact that his company has not been sued in this case, Curtis at the time said publicly that Wealthcare's real beef was with PIEtech, not UBS — and with PIEtech product MoneyGuidePro, a popular piece of web-based financial planning software that competes directly against a program developed by Wealthcare's parent company.
UBS's use of MoneyGuidePro is the key issue in the alleged patent infringement, according to the suit.
So PIEtech decided to jump into the fray and is waiting for a judge to rule whether it can get in on the litigation.
"PIEtech feels pretty strongly about its case and its defenses and is taking the unusual step in intervening in the case," said Paul Keller, an attorney with Allen & Overy, the New York firm representing PIEtech and UBS. "They are taking the courageous and correct move."
Wealthcare is in the process of opposing PIEtech's participation the case, Keller said.
Asked why he decided to get his company so involved, Curtis again said that the real dispute should be between his company and his cross-town competitor.
"We're saying you're essentially suing MoneyGuidePro, but they won't let us into the case," Curtis said. "If we're the ones that are the bad guys and have stolen from them, why wouldn't you want to get us in court?"
Curtis initially said UBS was sued to make a bigger PR splash.
Keller still isn't sure.
"Who knows why Financeware decided to choose UBS and not PIEtech?" Keller said.
"Wealthcare would much prefer to go one by one through PIEtech's client list instead of really addressing the issues of the case. It's an individualistic war on customers instead of going after PIEtech."
UBS filed its response to the suit Oct. 14, arguing that it has not infringed on the patents and that the patents should be found void or invalid.
UBS claims that Financeware's patents are invalid because the claims are outside the scope of patentable subject matter. In other words, and just as Curtis argues, "we feel pretty strongly you should not be able to patent something like this."
Wealthcare chief executive David Loeper said in an email that his company's patents were issued after a thorough review.
"The UBS counterclaims are a common response by patent litigation defendants and they are void of substance," Loeper said. "The Patent Office is well aware of how to assess the validity of patents on financial systems and it decided that our inventions were valid. We are confident in our case."
New York intellectual property law firm Kenyon & Kenyon is representing Wealthcare in the case.
Curtis said that PIEtech is taking responsibility for helping defend UBS. It is also common practice in their industry for a company to indemnify the users of its licensed products from liability.
"We've taken responsibility for this," Curtis said. "They are using my software appropriately. So it's our issue."
Michael Schwartz is a BizSense reporter. Please send news tips to [email protected]