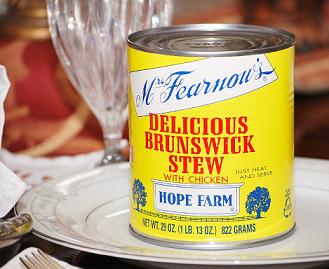 A popular brand of Brunswick stew that was born in Mechanicsville might have reached its shelf life — at least temporarily.
Mrs. Fearnow's Brunswick Stew — yes, the one in the yellow can — was taken off some local supermarket shelves as of about three months ago, according to a reader who emailed in and wondered whether the brand had been discontinued.
BizSense did some digging to find out what's happening with ol' Mrs. Fearnow and the stew that was first cooked up locally 70 years ago.
A manager at the Atlee Road Kroger in Mechanicsville said that production of the stew stopped and that the store has been out for a couple of months.
Carl York, public affairs manager for Kroger, said that the supplier temporarily stopped producing the brand but recently ramped back up and will continue to distribute the product to stores.
"It wasn't discontinued," York said.  "For whatever reason, the supplier shut down production of it temporarily. Shoppers should still be able to buy it."
York didn't have details on why the supplier stopped producing the stew.
The canned stew was originally made by Lillie Pearl Fearnow, who cooked it up on Hope Farm in Hanover County in the 1940s.
Fearnow's children started Fearnow Bros. Inc. at a plant in Mechanicsville that canned the stew. It was later run by the grandchildren until it was bought by Castleberry in 1999.
Bumble Bee Foods acquired Castleberry/Snow Brands in December 2005, and Castleberry was shut down by the FDA in 2008.
Bost Distributing Company bought the Mrs. Fearnow's Brunswick Stew brand from Bumble Bee in 2007, according to its website.
The Sanford, N.C.-based company produces and markets various food products, such as Patterson's Hot Dog Chili and Harold's Crab Soup.
Calls to Bost Distributing were not returned Tuesday. Stew-lovers can still purchase Mrs. Fearnow's through the company's website.
David Stanley, a manager at the Food Lion on Courthouse Road, said the  store was out of the stew for a while but is once again receiving it.
"As of right now, I haven't heard anything about them discontinuing it," he said.
Both the Martin's in Sycamore Square in Midlothian and the Kroger on Mechanicsville Turnpike are still carrying the product.