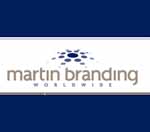 Two brothers who have spent decades in the marketing business are using their rebranding tricks on their own firm.
David and Stephen Martin are changing the name of Martin Branding to Martin Partners and giving the firm a facelift.
Martin Branding creates logos, slogans and branding programs for its clients.
Stephen Martin said his brother asked him six months ago to come work with him as a senior partner of the new firm.
"His motive is to expand beyond just branding," he said.
Stephen Martin currently works as the marketing director for the Richmond Raiders, a professional indoor football team. He matches them with sponsors and signage.
He said he would bring a similar approach to the clients for Martin Partners.
"It's a nice little extra thing we can offer … for example, if a retailer wants to draw a big crowd, we could arrange a pep rally at the location," he said.
The Raiders will come on as a Martin Partners client along with Martin Branding clients Williams Mullen, Davenport & Company, Markel, Duke's Mayonnaise, the Richmond Chamber of Commerce and some colleges and nonprofits.
David Martin launched Martin Branding in 1999 after leaving the Martin Agency.
Stephen never worked for Martin Branding but worked with his brother for more than 25 years at the Martin Agency and Hawley Martin Partners, an ad agency they started after selling the Martin Agency to Ogilvy Group in the late 1980s.
After the agency was acquired by Interpublic, Stephen left to start publishing firm The Oaklea Press Inc., a decision that led him back to the marketing scene.
"When the recession hit in late 2007 early 2008, the bottom just fell out and hasn't come back," he said.
Martin said he expects the new firm to expand with clients in the travel and tourism industry.
"We have a tremendous amount of experience between us in travel and leisure and things like the Raiders," he said. "We won't specialize in it, but we'll explore it."
On Nov. 15, Martin Branding will move its River Road office to a bigger space on Westwood Avenue.
Stephen, his brother and a few others will make up Martin Partners. Martin said the name change and new website should be up by the end of the month.