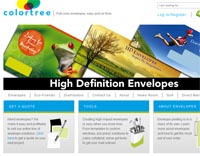 A Pennsylvania investment firm has acquired a majority stake of two local companies, combined them and packed the resulting company with fresh cash for expansion.
Wayne, Pa.-based Boathouse Capital is now the owner of Colortree Group, a direct mail and printing company that produces and mails fliers, postcards, envelopes and other products. Colortree Group is made up of the former Colortree Inc., which was founded in Richmond 23 years ago, and eight-year-old Graphics Innovations.
Financial specifics of the deal were not disclosed. Pat Patterson, the company's new president and CEO and part owner, would only say that the capital contributed by Boathouse was in the millions.
The idea for a sale to Boathouse came after Colortree's two remaining founders decided they wanted out of the game, Patterson said.
One was ready to retire. The other wanted to move on to other things.
Through various connections, a deal was set up to have Boathouse and Patterson buyout the two departing managers.
Dominion Partners, a local investment banking firm, represented the sellers.
Boathouse is a mezzanine investment firm that makes debt and equity investments in established companies.
"Boathouse provides companies with financing to get the next level," Patterson said. "They've given us a better capital structure to grow. And that's what we're going to do."
Now that the two predecessor companies are combined, Colortree Group is on pace to bring in $40 million in revenue this year, said Patterson, who has been with Colortree for 10 years.
Despite its new out-of-town owners, Colortree will continue to be run locally by Patterson and will continue to look to grow in Richmond by expanding its product line and adding employees over time. The company is headquartered in Villa Park and has 200 employees.
"Boathouse Capital was interested in the company primarily because I would stay and run it," Patterson said.
Its new capital backing also gives the company the clout to look for acquisitions, Patterson said.
"We're going to grow internally, and if we find the right combination of something else we may pull it in as well."
Most of Colortree's customers are of Richmond, Patterson said, and its base spans from Atlanta to Boston.
In addition to Boathouse and Patterson's ownership stakes, the company will give a share of the new entity to some of its management.
Michael Schwartz is a BizSense reporter. Please send news tips to [email protected]