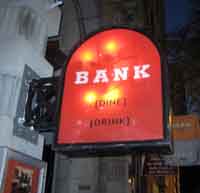 A six-year-old restaurant/nightclub in Richmond's Financial District has shut its doors while it undergoes a facelift and tweaks its business model.
Bank/Vault Restaurant on East Main Street — located in an imposing former bank branch — has closed for renovations.
Owner Mo Roman said he wants to attract more business professionals for lunch and for special events. He's closing the nightclub for good (it was called Vault and was in the old vault downstairs) and updating the menu and decor.
The 10,000-square-foot building, which was built in 1912, will reopen before the end of the month with an upgraded dining area, a new sitting area, a new wooden bar and an expanded cocktail menu.
"Our first two years were amazing, but we shifted too much to being a club, and that is not what the Bank is about," Roman said.
Bank added on the Vault in summer 2009. Roman said that it was doing well but that it overpowered the core restaurant business.
"We didn't want to be defined as a club," he said.
Renovations will take place over the next 10 to 14 days, and Roman said he hopes to reopen before the end of the month.
The restaurant will also have a new menu, a new head chef and more employees. Roman is keeping the menu and chef under wraps but describes the food as traditional Southern cuisine.
There will be seating for about 150 in the 5,000-square-foot restaurant, and Roman said a primary focus would be weddings, nonprofit events and corporate functions.
"Lunch is up and down and has been from day one," he said. "Corporate events have always been steady."
He said the restaurant has hosted many of the local law firms and other major companies across Richmond.
"We do a minimum of about 20 a month," he said.
Roman also said the upgraded restaurant will also have a widely expanded cocktail menu.
"We hope to be the leading restaurant in town in terms of variety and ingredients," he said. "Some place you can go for a neat drink experience."
Bank is using B&B Construction for the renovations.