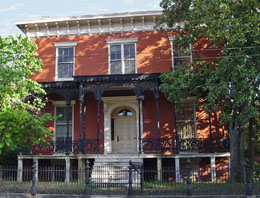 Veteran developers renovating a historic mansion in Shockoe Bottom like the mixed-use project so much they're going to move in themselves.
Robin Miller and Dan Gecker, principals of Urban Design Associates, have started work inside the Pace-King House at 205 N. 19th St.
The home was built in 1860 and covers about 7,000 square feet.
"The property has been vacant for three to five years," Miller said. "The previous owner was in over his head, and we were able to pick it up."
Miller said the previous owner was about a third of the way through converting the property into apartments.
"We are going to rehabilitate the building using state and federal tax credits and bring back the main house to be a first-rate office building," Miller said.
There are two other buildings on the property, a carriage house and what originally was built as servants quarters, which will be converted into three one-bedroom apartments. The property is next to several other historic homes and buildings, tucked behind East Broad Street and the bars and restaurants of 17th Street.
"These will be very top-notch apartments in the $900 to $1,100 rent range," Miller said.
Miller said the entire project will cost $1.25 million, including the $700,000 purchase of the property. Miller said he hopes to be done over the summer.
As for the office space, Miller said he already has a tenant for one of the units: his own firm.
"This will be corporate headquarters for Urban Development Associates," Miller said. "Dan and I both will have offices in the building and will be there full-time."
They will move from their current office at 19th and Broad.
"There are three other offices in the building, and we looking for tenants that would mesh nicely," Miller said.
Urban Development Associates is the company Miller and Gecker, who is a Chesterfield County supervisor, use for their large portfolio of holdings in Manchester. The duo owns roughly 150 parcels in that area, of which they have developed about 40, including the Old Manchester Lofts. Their next project there is a new 44-unit apartment building at 909 Perry St.
The National Parks Service has more on the history of the Pace-King House.