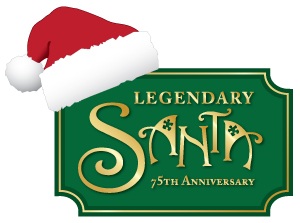 CHILDREN'S MUSEUM AND SAKS TO HOST LEGENDARY SANTA 75TH ANNIVERSARY GALA
Exclusive Jeweler Oscar Golbert of Beverly Hills to offer select period pieces
Richmond, VA (November 14, 2011) – This holiday season marks 75 years in the Richmond community for Legendary Santa, who began his career in Santa Land at Miller & Rhoads in 1936. In honor of the diamond anniversary the Children's Museum of Richmond, in partnership with Saks Fifth Avenue Richmond, will host a gala event on the evening of November 19, 2011 at the Saks store at Stony Point Fashion Park.  The children's museum became Santa's permanent home in 2005.
"Saks Fifth Avenue Richmond is honored to celebrate this special Richmond tradition and support the efforts of the Children's Museum," said Cheryl Slokker, marketing director of Saks Fifth Avenue Richmond.
The Gala will feature a jewelry trunk show with Oscar Golbert of 18 Karat Appraisers from Beverly Hills, CA.  18 Karat Appraisers specializes in exquisite, one of a kind jewelry pieces spanning the numerous eras in jewelry such as the Victorian, Art Deco and Retro periods, as well as pieces from the 60's and 70's.
"We are honored to be invited to the charity event to showcase the collection to the Richmond community and we've hand-picked a selection of pieces especially with this event in mind," said Hernan Golbert, Vice-President of 18 Karat Appraisers.
This once in a lifetime event begins at 6:30pm and will feature a full evening of merry activities.  Guests will be welcomed by the sounds of a bell choir and professional carolers performing traditional holiday songs.  Children will have their own special area where they can make crafts, enjoy treats and participate in holiday activities while visiting with the Snow Queen and other festive characters.  Shopping during the gala is encouraged as Saks will generously donate 10% of in-store sales to the Children's Museum for all purchases made on November 19th and 20th, when the museum is mentioned.
At 7:15pm, the one and only Legendary Santa will journey down the chimney to greet boys and girls of every age and will mingle with guests throughout the store for the remainder of the evening. Just before disappearing back up the chimney, he will draw the winning raffle ticket for the museum's Mercedes-Benz Raffle for a 2011 GLK350 Sport Utility from Mercedes-Benz of Midlothian.
Tickets for the Legendary Santa 75th Anniversary Gala cost $25 for adults and are free for children 12 and under, and may be purchased by visiting www.LegendarySanta.org or by calling 804.474.7013. Proceeds from gala tickets and the Mercedes raffle directly benefit the Children's Museum of Richmond.
About Children's Museum of Richmond
The Children's Museum of Richmond has been serving the community since 1981 with the mission to create innovative learning experiences for all children and those who support them that inspire the next generation of creative problem solvers. The museum now has two locations, CMoR Central at 2626 W. Broad St. in Richmond and CMoR Short Pump, located in West Broad Village at 2200 Old Brick Road in Glen Allen.
For more information, please visit  www.ChildrensMuseumOfRichmond.org or call (804) 474-7000.