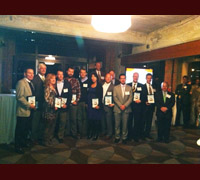 Ten up and coming local companies were honored last night by the Richmond Venture Forum.
A crowd of about 200 attended the Greater Richmond Companies to Watch, an annual event put on by the Venture Forum to recognize promising local companies that have the potential to rapidly expand.
This year's event, held at the Boathouse at Rocketts Landing, honored the following companies:
Proxios, a cloud computing company
Ebidlocal.com, an online marketplace for auctions and estate sales.
Marz Industries, which produces hydrogen fuel cell products for the transportation industry.
Emommie.com, an online maternity clothing website.
MedCPU, creates electronic medical record solutions for doctors.
Handcraft Linen Services, a local company that provides linen and uniform services to the healthcare industry.
Urban Grid, a local firm that sells solar panels and electric vehicle charging stations.
Unboxed Technology, which creates interactive systems to help companies train their employees and educate customers.
The Pediatric Connection, a home healthcare company that caters to children with complex medical issues.
Mobelux, a mobile app creator.
The key note speaker at the event was Christopher Fey, CEO of U.S. Preventive Medicine.