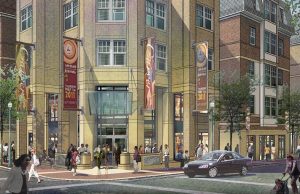 A hotly contested student housing project is once again seeking approval from City Council.
Gilbane has made a few changes to its proposal to develop apartments on the 1200 block of Marshall Street in the Carver neighborhood north of Virginia Commonwealth University. The Planning Commission will vote on the project Nov. 21, followed by a council vote Nov. 28.
"What we have done is reduce the number of units and the number of bedrooms," said Andy Condlin, an attorney with Williams Mullen who represents the Rhode Island-based developer.
"We were able to do that by taking off a complete floor, which also lowers the height," Condlin said.
The new plans reduce the number of units from 164 to 136 and the number of bedrooms from 498 to 406. Condlin said the building will maintain the same parking ratio.
Last July, the Planning Commission voted against approval of the project as it was first proposed by a 4-3 vote. A number of residents spoke against the project, and the Carver neighborhood association had voted to oppose the project. Gilbane withdrew the project before council could vote on it.
The Carver Area Civic Improvement League has reversed its position, recently sending a letter of support to the planning department after voting on the revised proposal.
In its previous effort to approve the $35 million project, Gilbane contended that reducing the number of units was not economically feasible.
Condlin said the developer was able to go back and find some cost savings primarily by eliminating a portion of the underground parking garage, as well as "refining" the land price and construction costs.
Gilbane has a contract to buy the land from owner Frank Wood upon approval of the project for an undisclosed sum.