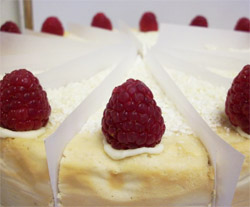 Jane Eckels has found another sweet spot for her niche business.
Last week, the former restaurateur opened her third Cheesecake Heaven, a storefront that sells only cheesecake, on Three Chopt Road.
Eckels started the business last July, opening a cheesecake drive-through in Warrenton, Va., and a second location in Fairfax about two months ago.
This summer, she started cooking up the idea for a third location.
"My daughter went to school at VCU, and I would go down to visit her and I really liked the city," Eckels said. "I looked at the space and thought that it would work."
Eckels is originally from Manassas and for almost 15 years ran a pizza restaurant in her hometown.
"I started making cheesecakes for the restaurant and from there wholesaling to various restaurants in Virginia," she said.
After selling her restaurant in 2004, she worked at Nordstrom briefly and then went to work at a lingerie shop in Washington before getting laid off.
"With the way the economy was, there was downsizing at my job," she said. "I found myself looking for something to do."
So Eckels decided she'd take up her side business again.
"I thought maybe I should go into business for myself," she said.
She leased the 300-square-foot shop in Village shopping center in September. The Richmond Cheesecake Heaven is a walk-in, and the other two locations are drive-throughs.
The shop sells 10 flavors of cheesecake, including chocolate mousse, Oreo, peanut butter and white chocolate raspberry, and offers $4 slices as well as whole cheesecakes ranging from $10 to $40.
Eckels runs the two Northern Virginia locations, and her son manages the Richmond shop. She does all of the baking herself from a restaurant in Gainesville, and the cheesecakes are then delivered to Richmond.
Although her two drive-throughs haven't been around that long, Eckels said the dessert-on-the-go business is starting to become a profitable one.
She said that this time of year she's usually making several hundred cheesecakes a week for the Warrenton location.
"Richmond is starting out a little slower, but I have a good feeling. It's a matter of people knowing we're there," she added.
Eckels said she plans to keep expanding her cheesecake business once the Richmond location takes off.
"Well see how it goes. We're being received well," she said. "Possibly D.C. or Maryland or another area in Richmond."