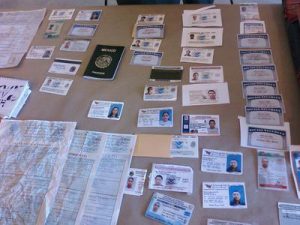 The mastermind behind a massive ring of fake ID smugglers pleaded guilty to racketeering and other charges in Richmond federal court yesterday.
Israel Cruz Millan, 26, entered his plea an hour before his trial was scheduled to begin.
Millan, of Raleigh N.C., was the boss of"cell managers" in 19 cities of 11 states, including Virginia. The case offers an interesting glimpse into the inner workings of an illicit business.
From the AP story in the Washington Post:
According to the indictment, Millan supervised cell managers in 19 cities in Virginia, Arkansas, Connecticut, Indiana, Kentucky, Massachusetts, Missouri, North Carolina, Ohio, Rhode Island and Tennessee. The indictment says those managers oversaw the production of false identification documents, including Social Security and permanent resident alien cards, and supervised "runners" who sold the bogus IDs to illegal immigrants for $150 to $250 per set.

"They really ran this like a business and used a business model where people would be promoted based on the amount of money they brought in," Torres said.

Millan was accused of directing his subordinates to wire more than $1 million to upper management inMexicofrom January 2008 through November 2010. Members of the enterprise who violated internal rules were subject to punishment, including shaving of eyebrows, wearing weights and beatings.
Torres is the special agent in charge of U.S. Immigration and Customs Enforcement in Washington, who also said that document rings do not usually resort to the level of violence engaged in by Millan's crew.
Thirty individuals have been charged in connection to being a part of the ring, 26 of which have pleaded guilty. Two remain fugitives and one has yet to be identified. The remaining man is Edy Jiminiez-Oliverez who is charged with murdering a rival document seller in Arkansas, his trial began yesterday.