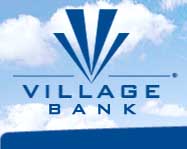 Village Bank will become the latest local bank to enter into a written agreement with regulators.
Hampered by high levels of souring loans, the $600 million Midlothian-based bank said this week that it expects to enter into a consent order with the FDIC to try to keep the bank on a sound course as it works through its troubles.
The exact terms and timing of the agreement are not set, but it is expected to be formally issued in December or early January, according to the bank's SEC filings.
Meanwhile, the bank is looking to sell its 80,000-square-foot headquarters building and will close one of its branches in January.
Written agreements and consent orders, which have become common in the wake of the recession, set out guidelines to which struggling banks must adhere.
The agreements do not signify that a bank is in imminent danger of failure.
"This is not the death knell to this institution," Village Chief Executive Tom Winfree said in an interview Wednesday. "It's certainly something we can overcome."
Village Bank will join a handful of its local peers already under such agreements including Essex Bank, Central Virginia Bank, EVB and Bank of Virginia. The former Consolidated Bank & Trust had also been under agreement prior to being merged into West Virginia-based Premier Bank. Virginia Business Bank, the only local bank to fail during the recession, had also been under agreement until it was shut down in August.
Village's agreement comes a bit late in the game compared with most of its peers. Many have been operating under an agreement for a year or more, the most recent order being received by Louisa-based Virginia Community Bank in June.
Winfree said regulators wanted the agreement after an examination in March and mostly because of the bank's high level of soured loans and foreclosed real estate.
Village had already signed a memorandum of understanding with the FDIC, a slightly more informal and less restrictive type of agreement.
The provisions of the formal agreement will likely include stricter reporting and budgeting, strategic planning, assessment of management, limited asset growth and, most importantly, a capital plan. The agreement will set capital levels that Village must meet.
In a time when capital is king and capital raises are difficult to pull off, Winfree and Village CFO Harril Whitehurst are confident they can meet the requirements of the pending agreement.
"We think we can get there quickly, even without raising capital," Whitehurst said.
Most banks that come under a written agreement have already been working to implement many of the provisions by the time the formal agreement goes public.
Written agreements also typically prevent banks from paying dividends, either to common or preferred shareholders, without first receiving permission from the regulator. In Village's case, that would likely include the quarterly dividends it must pay to the U.S. Treasury Department for its participation in the TARP Capital Purchase Program.
Village received $14.7 million in capital from TARP in May 2009 and dividends of 5 percent are due quarterly.
The issues Village Bank is dealing with are evident in its latest financial reports. For the quarter that ended Sept. 30, the bank lost $5.4 million, mostly due to a setting aside a big chunk of cash to cover potential loan losses.
The bank's $9.5 million provision for loan losses is big jump from the $1.4 million it set aside a year ago.
"We just felt it's the prudent thing to do," Winfree said.
Village has concentrated a lot of its business within Chesterfield County. That was a blessing during the boom times, as the county became a hotbed for residential development and the bank grew along with it.
But that Chesterfield-centric approach has stung lately as development has stalled, big-dollar land development loans have soured with falling property values and foreclosures. (You can see a list of property at Village Bank's real estate website)
The bank has $35.5 million in non-performing assets, down slightly from a year ago, but up from the first two quarters of the year.
Each time the bank thinks it has identified all its troubled loans and unloaded some foreclosed real estate, another one goes bad, Winfree said.
"It's still like taking two steps forward and one step back," he said.
Still, Village remains well capitalized according to regulatory standards. And as long as the financial health of borrowers stay steady, Winfree said the large reserve will suffice.
"The reserves are there," he said. "The expense has been taken. Now it's behind us."
Village Bank is also trying to sell its massive headquarters building on Midlothian Turnpike just off 288 and lease back the space. The sale is related to a bit of a rules snafu, after Village inadvertently failed to inform the Federal Reserve that it transferred ownership of the building from the holding company to the bank.
The bank occupies about 40 percent of the four-story, 80,000-square-foot building. All but 6,500 square feet of the remaining space is occupied, Winfree said.
Village has asked for a waiver from the Fed to avoid having to sell the property, which is paid off. Selling it will have some advantages, including saving the company about $400,000 in annual expenses. The property is listed with CB Richard Ellis.
Winfree said the bank will also close its Highland Springs branch in January. That move will save the bank about $250,000 in lease expenses. The branch was not profitable and had been hampered by two frightening robberies.
Michael Schwartz is a BizSense reporter and covers banking. Please send news tips to [email protected]