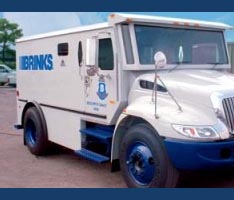 The Brink's Co. is known for its cash-toting armored trucks.
Upon his retirement next month, Brink's outgoing chief executive stands to make a truckload, too.
The company, headquartered off Forest Avenue in Richmond, announced this month that Michael Dan would retire Dec. 23.
As part of the agreement he and the company signed, he'll get a hefty parting gift to be paid the end of the year, according to documents the company filed with the Securities and Exchange Commission.
Dan leaves a post he has held since 1998 and that paid him $6.43 million in total compensation in 2010. That included a $1.1 million base salary, a $950,000 bonus and the usual added pay and perks.
Before the end of the year, Dan will also get a lump sum payment worth twice his base salary, an annual bonus and the equivalent of two years worth of participation the companies benefit plans.
Although the total figure is difficult to calculate, that salary-related lump sum equals about $2.21 million, according to the most recent proxy data from the company.
The agreement also calls for other payments tied to the Dan's pension/retirement plan, which, according to Brink's proxy, is valued at more than $9 million. There's also $14 million in deferred compensation.
His agreement also calls for the vesting of his various stock awards. He owns more than 1 million shares of Brink's stock, which are presently trading at about $24 per share.
For a retirement not related to any other form of termination, Dan's previous agreement with the company called for a departing pay package valued at about $28 million, according to Brink's most recent proxy.
But as part of a new succession agreement he signed last week, Dan agreed that his departure would be treated by the company as "termination by the company without cause," and would waive his right to resign for "good cause" or in a "constructive agreement." Those are the convoluted corporate-speak scenarios around which previous estimations of his departing pay were calculated.
Because of that new agreement, the total tally of his departure likely won't be laid out clearly until proxy season, which is typically in early spring.
Thomas Schievelbein, the former head of shipbuilding giant Northrop Grumman Newport News, will replace Dan in the interim.
Brink's said it has created a search committee and will hire a recruiting firm in its search for Dan's replacement. That search will consider candidates both inside and outside the company.
Michael Schwartz is a BizSense reporter. Please send news tips to [email protected]