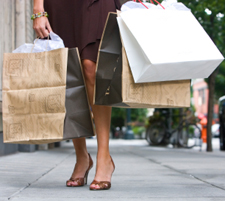 The owner of Short Pump Town Center has canceled its plans to track shoppers' movements through the mall after receiving a complaint from a U.S. Senator.
Forest City Enterprises had planned to use the technology, called FootPath, at Short Pump and another mall in southern California through New Year's Day to observe how individuals traveled through the mall and which stores they visited. A series of antennas through out the property could detect cell phones and keep track of their location, with the identity of the shopper remaining anonymous.
But after one day of use, on Black Friday, the company pulled the plug in response to concerns raised by New York Sen. Chuck Schumer.
"A shopper's personal cell phone should not be used by a third party as a tracking device by retailers who are seeking to determine holiday shopping patterns," Schumer said in a statement.
Schumer said customers should be able to opt-in and not have to opt-out. He also expressed concern that the system could be compromised by hackers.
Forest City issued its own statement as well: "We have temporarily suspended further trial of the technology while we work with the system developer on possible enhancements, and in deference to concerns raised by Senator Schumer."