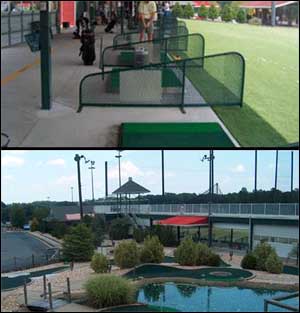 If you can swing a $2.2 million Christmas gift for little Johnny this year, Yang To Hak has the ticket. But don't expect it to fit under the tree.
Rockwood Golf Park, a 12-acre driving range, mini golf and batting cage business on Hull Street Road in Midlothian, is for sale for $2.2 million.
Yang thought the property's 12 acres and location would appeal to a commercial developer.
To his surprise, most of the interest has been in keeping the business in place.
"It is a unique listing," said Brandon Choe, an agent for Electra Properties who is handling the listing. "There's not many of them."
Yang bought the property in March 2008 for $1.6 million, according to Chesterfield County records. He's looking to sell the business so he can spend more time with his family in New Jersey.
Choe said interest from prospective buyers has come from all over. A New Jersey real estate developer offered $1.8 million, but Yang turned it down.
Yang has kept the golf park profitable, despite the sluggish economy, Choe said.
Michael Schwartz is a BizSense reporter. Please send news tips to [email protected]