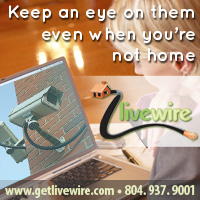 After making three acquisitions this year, home technology company Livewire has found itself some more room to operate.
The company leased the 5,000-square-foot office/warehouse at 4901 W. Clay St. across the street from its current showroom and office near Willow Lawn. The company specializes in home theater, security and automation systems.
"For the last year, Livewire has been on a pretty aggressive upward growth pattern," said owner Henry Clifford.
In March, Livewire acquired competitor Home Media in Midlothian. In July, it acquired NSN Technologies.
The acquisitions have meant more employees and more customers for Livewire.
"It was clear to us that we really needed to expand," Clifford said.
The company has grown from nine employees last year to 20. Clifford said revenue is up 70 percent over last year.
"Right now the mainstay of our business is still audio-visual set up — simplifying technology in people's homes," Clifford said. For example, the company can install a system that uses one remote for all sorts of electronic gadgets.
Clifford said a lot of his business also comes from servicing existing systems.
"We have 10 years plus Home Media's book of business, which is 16 years worth of customers that needed constant assistance and upgrades," Clifford said.
Clifford said he will used the newly leased building for warehousing and testing new systems while using the extra room at their present location to expand their showroom and administrative offices.
"It will make our back office and operations side much more efficient," Clifford said.
"With the new space, we will be able to scale. We can get as big as we want in Richmond and use this as a springboard to move into other markets like Charlottesville."