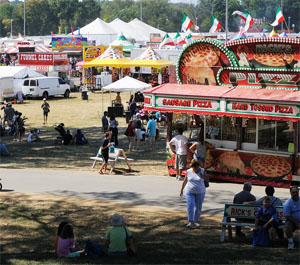 The State Fair of Virginia Inc. — the nonprofit company that operates the fair — filed for Chapter 11 bankruptcy after failing to work out a deal with its lenders to restructure the $83 million it borrowed to develop its new fairgrounds in Caroline County.
Curry Roberts, president and chief executive of the fair, said the organization intends to continue normal operations during the bankruptcy.
"This is just something we're trying to go through to put ourselves on more stable financial footing," Roberts said Thursday in a phone interview.
The fair's financial issues stem from two huge real estate deals.
In 1998, SFVA's predecessor, Atlantic Rural Exposition, sold its Strawberry Hill Fairground complex to Richmond International Raceway for $47 million. The proceeds of the sale were put into an investment portfolio.
In 2003, it acquired the 360-acre Meadow Event Park in Doswell for $5.3 million. Using the investment portfolio as leverage, the fair took out loans with a group of 15 lenders for about $83 million. The plan was for the portfolio's income to more than pay for the principal and interest on the loans.
That plan went awry in 2009, when the financial markets collapsed.
"That portfolio never really recovered," Roberts said. "It is half of what it was in 2009. And since then we have attempted to work out a restructuring with our lenders and have been unsuccessful."
The fair reported a loss of $11.2 million in fiscal 2009. That was due in large part to a $6.4 million loss on its investments, according to records filed with the IRS.
And 2010 wasn't much better. The fair lost $7.4 million that year.
A bad economy and bad weather for the fair's first two years at Meadow Event Park didn't help, either. And even though fair attendance improved this year, Roberts said the organization doesn't bring in nearly enough in event income and donations to cover the loan payments.
"We could have well out-performed all of our forecasts for the last three years and it would not have made up for the whole of the equity in our portfolio," Roberts said.
He said the fair's lenders have not pursued foreclosure on the property.
The State Fair has operated in Virginia for 157 years, since 1854. The 11-day event draws hundreds of thousands of spectators.
In addition to the State Fair, SFVA puts on the Strawberry Hill Races and the Meadow Highland Games and Celtic Festival.
It listed in its bankruptcy filing assets between $10 million and $50 million and liabilities $50 million to $100 million.
Jonathan Hauser, an attorney with Troutman Sanders, is handling the bankruptcy.
The top local creditors listed in the initial bankruptcy filing are advertising firm Siddall (owed $235,000), the Virginia State Police (owed $92,000) and Topside Tent & Party Rentals (owed $45,000).
Michael Schwartz is a BizSense reporter. Please send news tips to [email protected]