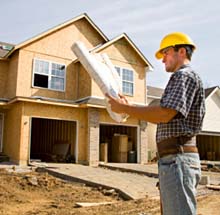 Richmond is shedding construction jobs, according to a recent report by the Associated General Contractors of America.
The Richmond metro area lost 1,300 construction jobs between October 2010 and October 2011, the report said. That is a decline of 4 percent, leaving the number of people employed in the industry locally at 33,100.
The figure also includes jobs in the mining and lumber industry.
That puts Richmond in 254th place among 337 metro areas. The latest report is a reversal from the previous year's trend, which reported a 4 percent increase in construction jobs for the area.
Statewide, 900 construction jobs disappeared over the past year for a 1 percent drop from 2010. Virginia Beach/Norfolk lost 1,800 construction jobs, while Northern Virginia gained 2,100.
Nationwide, construction employment declined in 146 metro areas and remained unchanged in 51.
One reason for the decline is a lack of new infrastructure spending by the federal government, according to AGC economist Ken Simonson.
"Declining federal investments in infrastructure projects, including highway and transit work, are making matters worse for construction employment in many communities," Ken Simonson, the association's chief economist, said in a statement. "If it wasn't for a slight increase in private sector demand, construction employment would be down in even more communities."
Read the full report here.