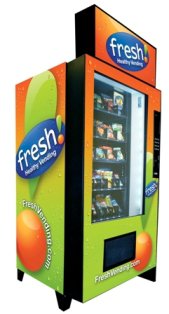 Pork rinds and candy bars beware: The health food vending machine has arrived in Richmond.
Fresh Healthy Vending, a San Diego-based franchise company launched its first Richmond operation this month.
Tricia Harper, David Hetherington and Chris Schroeder purchased the franchise in September.
Fresh Healthy's machines are stocked with soymilk, yogurt, fruits and vegetables, smoothies, energy bars, Kashi snack bars, tea and other organic snacks with a dual temperature system to keep items fresh.
Harper said they're targeting hospitals, public schools, the city of Richmond, universities and other Richmond employers for their healthy vending machines.
"What were seeing is some of the bigger ones (vending companies) don't have an assortment of healthy and organic products that these niche vending companies do so there's still opportunity," she said.
They've already nailed down two locations for the vending machines, the Richmond Ballet and Union Seminary, Harper said. The three plan to have 10 locations identified by January.
"We hope to perpetually increase with two to three a quarter," Harper said.
In addition to trying to win market share away from junk food slinging machines, Harper and her team may also have some competition within their own niche.
Vend Natural, another California-based healthy vending franchise first announced its intentions to sell franchises in the Richmond market earlier this year.
Fresh Healthy states on its site that starting a franchise can cost anywhere from $110,000 to almost $300,000 depending on how many machines someone purchases. There's also a franchise fee ranging from $10,000 to $30,000. It has two other Virginia locations in Frederick County and NorthernVirginia.
Fresh Healthy machines have about 200 products with about 10 to 20 different drinks and five or six rows of dry products. Harper said all of the items range anywhere from $1 to $2.50.
The machines are free to the businesses. Harper said the businesses can gain anywhere from 10 to 15 percent of the profits from the vending machine to use for their programs or whatever they choose.
"It's up to organizations how to use those extra funds," she said.
Fresh Healthy Vending launched in 2010 and operates about 800 other machines throughout the country.