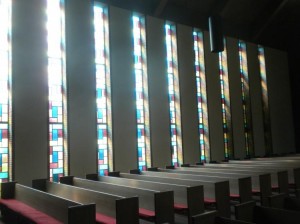 House auctions are a dime a dozen, but it's not every day that a house of God goes on the block.
An almost-60-year-old church in Petersburg will be auctioned Monday to the highest bidder. Bidders will get their chance to buy Walnut Hill Baptist Church beginning at 2 p.m. in an auction held by Motley's.
It's at least the second local church to go on the block in recent months.
In August, the historic Berryman Methodist Church in Woodland Heights, which was worth more than $1.2 million, was auctioned off with a starting bid of $150,000.
BizSense caught up with Pete Hasting, corporate sales manager for Motley's, to discuss the potential for a vacant church and how a church ends up at auction in the first place.
The following is an edited transcript.
Richmond BizSense: What's the story behind the church?
Pete Hastings: The church was started in the 1950s. The thing is 15,000 square feet plus. That's a lot of church. It sits on six acres and only uses about half the available land. It's not any type of distressed sale. It's just a unique asset.
RBS: How does a church get to this point? Foreclosure? Loss of members?
PH: When a congregation starts to mature and they don't bring young congregates in, you can have a church dissolve because of that. This church reached that point in 2007 or 2008, and the church just kind of disbanded in a way. That's the big problem when you have shift of population from one area of the city to another.
RBS: If the congregation no longer exists, who owns it?
PH: The Virginia Baptist Mission Board owns it. It's been sitting idle for about a year and half. But it's polished. It had done work on it as recently as 2010. You could buy it on Monday and hold services on Sunday. I'm serious. You've got four pianos, four different choir rooms, toys in the nursery, books in the library, PA systems and a pull bell.
RBS: It would seem that auctioning a church would come with unique challenges. Is that the case?
PH: Every [property] has unique aspects. The challenge is finding the organizations that are expanding at this point and have the wherewithal and the financial funding available to do this. And it's tough to put it in a multiple listing service or Loopnet. You have to reach out and put it in front of those folks: religious organizations and community groups.
RBS: What kind of interest does it generate?
PH: We've had tremendous interest in it. We've had interest from Washington, D.C., to Tidewater and of course all over Central Virginia.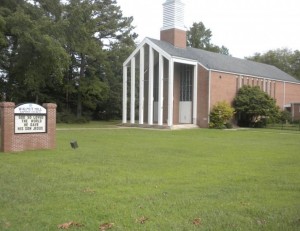 RBS: Who buys a church? What is the future potential of a church property? Would some developer want to tear down the steeple and cross to make way for condos or some mixed-use development?
PH: We really haven't seen or heard anything along those lines. Almost all the interest is from religious organizations, whether Jewish, Buddhist, nondenominational, etc. Plus that church has a special use permit. You can only do certain things with that land anyway. I would be surprised if it wasn't another religious organization.
RBS: There was another church auctioned locally this year. How common an occurrence is it for a church to go to the block?
PH: I wouldn't say rare. I am aware of churches going through distressed sales in other communities. There are banks that do in fact lend money on these things. Just like any owner of real estate in today's economy, it doesn't matter if you're a church or a restaurant.
RBS: How much would a church like this sell for?
PH: It's a brick building. You can't build a building like this. It would probably take [more than] $1 million to build that today. There is no starting bid. We'll let the bidders start it themselves.
Michael Schwartz is a BizSense reporter. Please send news tips to [email protected].