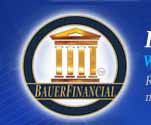 One local bank managed to work its way a step up out of the cellar during the third quarter, according to ratings released last week.
Central Virginia Bank, which for several consecutive quarters has been among the lowest rated banks in the state, saw its standing tick up a notch.
The Powhatan-based bank had languished at the bottom of the list by Bauer Financial, a Florida-based firm that rates all federally insured financial institutions each quarter.
Bauer's ratings are based on financial information such as capital levels, profits and non-performing assets. The agency ranks institutions using a five-star system.
Those receiving four or five stars are considered "recommended" by Bauer. Those receiving two or fewer stars are considered troubled or problematic.
At the front of the pack locally were Bank of Southside Virginia, Bank of McKenney and Peoples Bank of Virginia, the only local banks to receive a five-star "superior" rating during the third quarter.
CVB had been one of only a few Virginia banks to receive Bauer's zero-star rating. But thanks to turning a profit the past couple of quarters, the bank received a one-star rating.
It joins Midlothian-based Bank of Virginia as two of the three one-star "troubled" banks in the state.
Other local banks saw their ratings improve as well.
Upstart Xenith Bank improved from three-star "adequate" rating to a 3.5-star "good" rating. C&F Bank improved from 3.5 stars to a four-star "excellent" rating.
Village Bank, which recently disclosed that it will enter into a written agreement with regulators, fell from three stars to a two-star "problematic" rating.
And First Capital Bank fell to three stars from 3.5.
Richmond is also home to 35 credit unions that were rated by Bauer, 11 of which received five stars and one that was the lowest rated in the state.
Life Line Credit Union once again got zero stars — one of two in the state at such a level.
Life Line is an $8 million institution whose members include employees and volunteers of area medical organizations.
There were three zero-star banks in the state: Bank of Hampton Roads in Norfolk, First State Bank in Danville and Millennium Bank in Sterling.
Nationwide, Bauer's third-quarter ratings found that the country's financial system is "clearly on the mend."
About 63 percent of the nation's banks are considered recommended by Bauer, up from 59 percent a year ago.
And although 11.4 percent are considered troubled or problematic, that figure is down from 13.1 percent.
There are 884 institutions on Bauer's troubled and problematic bank report. That's the lowest level that list has reported since the first quarter of 2009.
Michael Schwartz is a BizSense reporter. Please send news tips to [email protected].