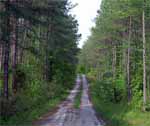 A 1,400-acre planned development in Chesterfield County's Matoaca district is at the center of a legal dispute after one of its owners defaulted on huge loans and used the property as collateral.
In filing the suit, developers George Emerson and Philip Roper are trying to protect their interest in the massive chunk of land from the bank that is going after an out-of-town partner.
The land at question consists of 1,435 acres known as the Burruss Land Tract, according to a lawsuit filed Nov. 22 in Chesterfield County Circuit Court.
The size of the land, which remains undeveloped, is larger than even Roseland, the stalled 1,300-acre project that is often touted as the last great piece of undeveloped contiguous land in the county.
The suit was filed by Highlands West LLC, an entity whose principals are George Emerson and Philip Roper.
Emerson is a major local developer who runs the Emerson Companies. Roper has partnered with Emerson on several developments across town and at one time ran Roper Lumber, a large lumber company that went bankrupt during the recession.
In 2004, Highlands West bought 30 percent of the property from Fairweather Investments LLC, a Maryland entity tied to David Fairweather, a real estate agent in Bethesda.
Highlands paid $1.27 million for its share, while Fairweather retained the remaining 70 percent.
As the real estate bubble burst and the land sat undeveloped, Fairweather Investments and Mr. Fairweather ran into financial problems, the suit alleges.
To try to manage those problems, the suit claims, Mr. Fairweather borrowed $6 million, using the entire property as collateral. Fairweather even persuaded Highlands to give its claims to its 30 percent stake in attempt to avoid default.
But it didn't work. The banks called on Fairweather's loans, and he's now in default, leaving the entire project at risk of foreclosure, the suit claims.
And now that foreclosure is a possibility, Highlands, Roper and Emerson are trying to protect their interest in 435 acres that remain free and clear from the lenders' grasp.
Roper did not return a message seeking comment.
When reached by phone Tuesday, George Emerson referred all questions to his attorney, Bill Bayliss of Williams Mullen.
"Fairweather's lenders have called the loans to Fairweather, and Highlands West needed to protect its 30 percent interest in the project to avoid foreclosure on their interest," Bayliss said.
"Highlands West is not in default under any obligations on this project. This is a Fairweather default that we all have to deal with," Bayliss said.
Highlands also claims that Fairweather breached the contract the two sides signed in 2004, because he allegedly used the land as collateral for funds not related to the Burruss Tract project.
The contract also stated that Fairweather could only pledge its 70 percent of the land.
"Highlands West has complied with all of their obligations from the inception, and unfortunately Fairweather was unable to comply with his obligations," Bayliss said.
Highlands has not yet served Fairweather with the suit, according to Bayliss, as his clients are waiting to see what the lenders do next.
Nevertheless, Highlands' suit, once served, would ask the court to award a total judgment of $4 million. That total includes $2 million that Highlands has put into the project and $2 million in lost profits.
The suit will also demand that Fairweather transfer its share of the remaining 435 acres to Highlands, rather than the lenders.
The land is located off Nash Road, not far from the Highlands, a golf and country club development also developed by Emerson.
County records show the land is assessed at $3.53 million. Fairweather purchased it in 2003 for $4.25 million. During the real estate boom the land's value ballooned as high as $5.15 million.
Michael Schwartz is a BizSense reporter. Please send news tips to [email protected]

View Larger Map