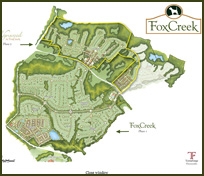 A high-end residential development in Chesterfield is getting a shot in the arm from a local private equity fund.
Markel | Eagle Partners said it is investing up to $2 million to complete the final 90 lots at FoxCreek, a 500-lot project owned by TerraForge Communities. 
The money will come from Markel | Eagle Partners Fund I, a $32.7 million fund opened in 2008. The fund has since invested in distressed real estate across the region, most notably taking over West Broad Village when that project was in the tank. 
Markel | Eagle recently launched a second fund.
"Although FoxCreek has been among the most popular communities in Chesterfield County, the lack of capital since the collapse of the real estate market left it in a dilemma," said Bud Ohly, a principal at Markel | Eagle, in a prepared statement. "Buyers were willing to purchase lots but the funds needed to complete the development were unavailable."
David Cloak, president of TerraForge, said the fund has stepped in with money that banks aren't willing or able to lend these days.
"We have a stable of non-conventional funding sources to do things that the banks used to allow us to do," Cloak said.
The Markel | Eagle fund typically invests in projects that are in various levels of distress, either from developers that have thrown in the towel or from banks and lenders that have taken property back through foreclosure.
But in the FoxCreek deal, Markel | Eagle is allowing the developer to continue what it started five years ago.
"We're an operating entity, and Markel | Eagle is investing in the company rather than just a land deal," Cloak said.
Markel | Eagle is investing in the first phase of FoxCreek, a 400-acre multi-phase project.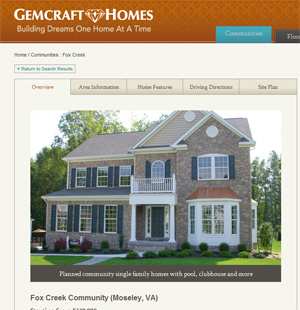 TerraForge bought the land for the first phase in 2004 and sold its first lots in 2006. Homes are priced between $400,000 and $900,000. Toll Brothers, Ryan Homes, Gemcraft and others bought lots.
Two additional phases are planned, Cloak said.
Development of the second phase is expected to start this spring, he said. That will include 500 lots. Three builders have committed to buy lots.
Build-out of another 590 lots is planned for 2013, Cloak said.
Henrico-based TerraForge has other developments in the works. Watermark, a planned town center-type of mixed use project in Chesterfield County, has been under development since 2007.
Its plans call for 220,000 square feet of retail space and more than 1,200 homes, including apartments, townhouses and single-family units.
"We think the market has flattened out. It's really been like that for the last year," Cloak said.
"There hasn't been a whole lot of what I would consider bright spots on the horizon relative to turning the corner. But the remaining homebuilders that are still in business are much stronger now."
Michael Schwartz is a BizSense reporter. Please send news tips to [email protected]