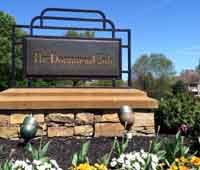 After almost a year, the bankruptcy of the Dominion Club is finally coming to end.
The western Henrico golf and country's club's bankruptcy reorganization plan was approved Wednesday by a federal judge, clearing the way once and for all for members to get at least some of what they are owed and for the club to get back to business as usual.
The battle over the future of the club began in January, when it was put into bankruptcy after it said it could not pay $1.7 million in initiation deposit refunds that had come due to about 100 members at the end of 2010. Another $10 million in deposit refunds was due down the road.
The club's owners, which include developer HHHunt and several other entities tied to the company, maintained that it wasn't their responsibility to refund the money to members because the club was a separate legal entity.
Members, who in this case were also the creditors, argued otherwise, and the case languished with back and forth arguments, even going through arbitration at one point.
A reorganization plan was eventually created whereby Hunt agreed to put in funds that would immediately repay some members 11 cents on the dollar that they were owed. Members could choose to wait to see what price the club and its land might fetch once sold in the future. That option is expected to repay members at least 20 cents on the dollar.
Some members joined the club by paying initiation deposits of $10,000 to $24,000, and those deposits were marketed as fully refundable.
In addition to putting up more than $3 million for the partial initiation deposit refunds, the plan also calls for Hunt to support the club with a working capital loan over the next five years, lower the lease rate it charges the club and look to put it up for sale over the next 12 years.
"The debtors, creditors, Hunt and everyone involved all worked very hard to reach the resolution that I think is in everybody's best interest," said Vernon Inge, an attorney with LeClairRyan who represented the club throughout the bankruptcy.
The other lawyers involved in the case included Tyler Brown of Hunton & Williams, who represented the creditors committee, and Robbie Westermann of Hirschler Fleischer, who represented Hunt and its other entities.
Michael Schwartz is a BizSense reporter. Please send news tips to [email protected]