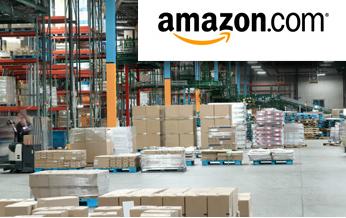 The phone call came around May.
A big-name company in a fast-growing industry with the cool factor to grab headlines was on the other end of the line, inquiring about Virginia.
And so arose the kind of opportunity economic-development types dream about: the chance to bag Amazon.
"It's a huge get," said Liz Povar, director of the business development division at the Virginia Economic Development Partnership.
Povar answered the call when Amazon expressed serious interest to open two huge fulfillment centers somewhere in the state. "We've had Amazon as one of our target companies for a number of years," she said.
The deal, announced Wednesday by the governor's office and state and local economic development groups, involves Seattle-based Amazon investing $135 million for two local fulfillment centers, including $85 million in Chesterfield County and $50 million in Dinwiddie County.
The facilities will bring 1,350 new jobs to the counties: 1,000 in Chesterfield and 350 in Dinwiddie. Those workers will fill and ship orders placed online by Amazon customers.
For a deal of this size – which includes more than 1 million square feet of warehouse space – the negotiation came together quickly.
It also came together quietly.
The VEDP, one of a handful of economic development groups that worked the deal, was tight-lipped with information, Povar said. Amazon demands confidentiality.
After getting the call, the VEDP sprang into action, putting together a package touting suitable locations across the state that could meet its workforce, space and logistical requirements. The VEDP also tried to show that the deal and the build-out could get done quickly. Amazon wanted to have the facilities open by next fall, in time for the busy holiday shopping season.
Dinwiddie and Chesterfield were very aggressive in making their case, Povar said. For example, BizSense first reported that Chesterfield County's Economic Development Authority submitted the site plans for 1 million square feet of warehouse space for an unidentified user back in October.
The packages presented to Amazon also included incentives to help seal the deal.
Amazon ultimately will get $3.5 million in grants from the Governor's Opportunity Fund. That money will help pay for site development at Meadowville Technology Park in Chesterfield County and Dinwiddie Commerce Park.
Amazon also will receive $850,000 in Tobacco Region Opportunity Funds for its site in Dinwiddie.
And the company will be eligible to receive benefits from the Virginia Enterprise Zone Program and financial assistance for its recruitment and training efforts from the Virginia Jobs Investment Program.
"We are aware that we are using dollars that come from our citizens, and we take that very seriously and want to ensure that when and if they are used they are used in a way that will create something that will last in the community," Povar said.
Virginians from away as Suffolk, Surry, Emporia, Farmville and elsewhere are expected to go after these jobs.
"This is a massive footprint that will be a wonderful opportunity for employment for citizens who are hurting," Povar said.
There could also be the ancillary impact of businesses that can work with Amazon's new sites.
This Amazon deal will likely be what Povar called a stabilizer for existing businesses nearby.
"I would expect there to be increased opportunities for vendors in the IT sector, the packaging sector, and some existing Virginia businesses to take advantage of that," she said. "The Richmond region probably through its FedEx and UPS hubs will get a lot of business from this."
Will Davis, head of Chesterfield Economic Development, did not return calls or email by press time.
Amazon representatives also could not be reached for comment.
Read more about Amazon fulfillment centers: "Welcome to Amazon Town (Wall Street Journal)
Michael Schwartz is a BizSense reporter. Please send news tips to [email protected].