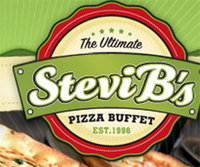 Rick Collins and his son Tim Collins are planning to roll out the second pizza buffet chain concept in Richmond next month.
The duo is opening the first Stevi B's, a Georgia-based pizza buffet chain franchise, on Atlee Road in Mechanicsville.
Stevi B's is similar to the CiCi's Pizza buffet model, serving 16 specialty pizzas, pasta, breadsticks, salad and dessert for one price.
After attending a trade show in Washington and checking out the Stevi B's franchise, Tim Collins and his dad decided they should go into business.
"That really spiked my interest in the restaurant business," said Tim Collins.
They started building the 4,900-square-foot space about a year and a half ago in the Rutland Shopping Center across from Kroger. The restaurant will have seating for about 150.
Collins wouldn't share how much he invested but said his father is financing most of the operation. Stevi B's website says it costs $28,500 to open a franchise. The total investment to build a Stevi B's restaurant ranges from $434,000 to $758,000.
Startup costs for a CiCi's franchise range from $461,343 to $714,912, according to its website.
Tim Collins, 27, operated two local Chik-fil-A's for two years before leaving within the past year to focus on opening his own franchise.
Rick Collins has worked a consultant for AMFS Transportation Management Group for the past 11 years. Before that, he worked for UPS for 22 years.
There's already a CiCi's Pizza in Mechanicsville, but Rick Collins, who lived in Mechanicsville for 13 years, said he expects the business to do well with the surrounding neighborhoods and other organizations.
"It's an up-and-coming location, close proximity to schools, strong youth organizations and there are tons of families," he said.
Stevi B's ranked 36 on MonkeyDish.com's 2011 Future 50, a list of the 50 fastest growing chains with sales of $25 million to $50 million.
The father and son plan to hire a staff of 50 for the restaurant and expect to start dishing out pizzas by Jan. 26.
Collins said he plans to expand to three or five more Steve B locations across Richmond.
"After a year and a half to two years, if it's doing well, we'll be moving to other locations," he said.