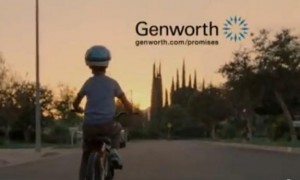 College football fans may have noticed ads during recent college bowl games for a locally-based insurance giant.
Richmond-based Genworth Financial rolled out two new ads during the Rose Bowl and other college football bowl games between the first weeks of December and early January.
Danielle Steel, a brand manager for Genworth, said the company advertised during last year's college bowl week and saw a big response.
"We picked big events like that because there are more eyes on TV than on a normal day," Steel said.
The company aired its first commercial Dec. 12 and a second ad ran on New Year's Eve and New Years day during the Rose Bowl Parade on ABC. Both ads ran during the Outback Bowl, Capital One Bowl, Rose Bowl, Fiesta Bowl, and Orange Bowl.
Steel said the company's target audiences are the 35-64 year-old age bracket; mainly financial advisers, planners, and others who sell Genworth insurance products. The ads are also targeting consumers looking to buy a home, retire or write a will.
In 2004, Genworth hired the Martin Agency for television commercials featuring husband and wife tennis stars Steffi Graf and Andre Agassi.
Genworth wouldn't disclose what it's spending on the new campaign, but an article in ADWeek stated that the games broadcast in college football's bowl season in December 2009 and January 2010 took in $318.9 million in ad sales.
Genworth isn't the only company dipping into the bowls to get their name out there.
Capital One paid to have college football's championship week dubbed "Capital One Bowl Week" in 2001. The company is the title sponsor for the bowl played at Citrus Bowl Stadium in Orlando. The financial services company also sponsors the annual "Mascot of the Year" contest.
Genworth also started running a commercial entitled "Everyday" during Monday night football Dec. 12 during the St. Louis Rams and Seattle Seahawks NFL game.