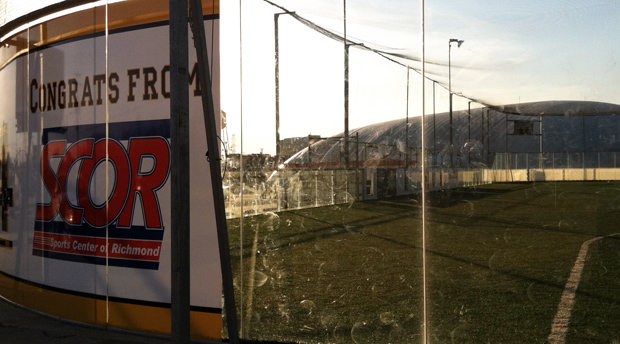 Running his business mostly out of a giant bubble wasn't exactly what Mark Grossman envisioned when he first launched the Sports Center of Richmond in 2006.
But after five years running soccer leagues and other sports under the domed roof of the bubble, which is visible from the Interstate 95/64, SCOR is looking to spend big money to expand and build a third field with a more permanent structure.
SCOR will add a new 20,000-square-foot steel building and will get the 8.1-acre-sports campus closer to what Grossman had planned from the beginning. He expects the move will at least double the organization's revenue and hopes to have a new field ready by November.
Grossman, who also runs sports insurance company Monument Sports Group, and SCOR General Manager Tim Krout sat down with BizSense to talk about the expansion, and how SCOR's success hinges on more than just soccer.
Richmond BizSense: Why expand now?
Mark Grossman: All along our original plan was to build your prototypical 3.5-field facility with a steel building. But we had an investor drop out at the last minute. Instead, we built as we had money. We've needed a new building for two years.
RBS: You are building a more permanent steel structure, rather than another bubble. Is the bubble a difficult structure to manage?
MG: [The bubble] is like having a child. If wind blows really hard you have to change the settings. If there are power outages in the area you have to make sure your generators are ready.
RBS: How much will the expansion cost and how are you funding it?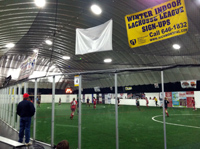 MG: We refinanced our loan with BB&T. It will cost about $700,000 to $800,000. That includes new turf, boards, lights. … The typical cost of a steel structure runs $37 to $40 a square foot.
RBS: Are you passing any of the costs of the expansion on to your customers?
MG: We raised our annual membership fee $5 [per player]. But we have not raised league fees since we opened. We haven't changed our concession prices since we opened.
RBS: How is SCOR performing financially? What has the revenue growth been like since it launched in 2006?
MG: Growth from our first completed year to this past year is up about 150 percent.
RBS: What is fueling that growth?
MG: Knock on wood – business has been really good. It's because of the growth of River City Sports and Social Club (which runs dodge ball and other adult sports), lacrosse, and field hockey and corn hole. It's not only our growth, but of our partners.
RBS: So it's more than just soccer?
MG: Kids, camps, the birthday party business has gone crazy. We have just under 200 teams – youth and adult, 100 dodge ball teams, and 20 in lacrosse. Tim makes the most of our space. We have spread out our seasons where people, even in the spring and summer, still want to play indoors.
RBS: What's the competition like right now for this industry with all the other leagues around town, both indoor and outdoor?
Tim Krout: RISE (Richmond Indoor Sports Experience) is definitely our competition. But they're on the other side of the river. CVSA (Central Virginia Soccer Association) has soccer but indoor is such a different game.
RBS: You've sold some sponsorships around the facility. How has that part of the business performed?
MG: Advertising – that's probably one of the areas we haven't executed as well as we thought we would. Part of it is the economy. We have 143,000 cars that go by our facility each day. One of my goals is to sell naming rights to that dome. It lines up perfectly with the highway.