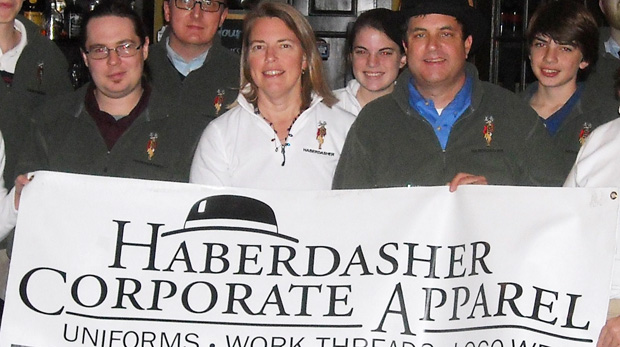 Scott and Helen Ilnicky's home-based, uniform apparel business was bursting at the seams.
So the two expanded Haberdasher Corporate Apparel from their cramped home off of Malvern Avenue to a 2,000-square-foot space on Dabney Road in Henrico County.
Revenue is up about 50 percent from last year, and Ilnicky said he and his wife desperately needed the extra room.
"We had product throughout most of the dining room and living room," he said. "Our house was becoming a warehouse."
Haberdasher sells uniforms, work- and logo-wear to businesses. The company sells formal work uniforms such as suits and ties, scrubs and lab coats, and more casual work-wear such as polos and khakis.
Ilnicky, a former S&K Menswear executive, launched the business in 2009 just before the Richmond-based clothing company went belly-up.
Helen Ilnicky, 50, said moving the operation out of their home was a sticky decision.
"I don't like to spend money on anything, so if I'm going to spend money on rent you know I'm desperate not to be living in a warehouse anymore," she said.
The company now handles about 200 accounts, up from 75 last year. Most of the clients are assisted living facilities, hospitals and restaurants in Richmond.  (BizSense covered the startup in 2010, and you can read more of the background in that story here.)
Ilnicky, 50, said he's been able to grow through consistent business with their existing customers, adding new accounts and by local businesses increasing the size of their staffs.
"Companies have hired more people and when they hire people they have to put them in uniform," he said.
"Hospitals and assisted living facilities are really good targets because they have people doing a lot of different jobs and we can provide just about anything for them."
Helen Ilnicky said that in 2010, the company won a bid for a few state contracts. It landed the Virginia Museum of Fine Arts, the Department of Mines, Minerals and Energy in Big Stone Gap and the Woodrow Wilson Rehab Center in Fishersville.
"We're hoping to grow that state contract business," she said.
Haberdasher isn't the only company dressing area employees. ARAMARK, a giant in the uniform-provider scene, has a location in Henrico. Best Uniforms, another company that provides law enforcement and EMS wear, also has an office in Richmond on Tomlyn Street.
The husband and wife team have a staff of five and said they hope to grow the company another 50 percent in 2012.
The Ilnickys hope to snag a national account or a company that has employees beyond the East Coast.