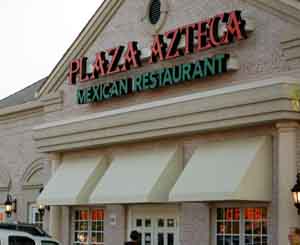 A growing Mexican restaurant chain is expanding with a fourth location in Richmond.
Plaza Azteca will open this spring in the former Hill City Chop House location on Brook Road. Rafael Fernandez, co-owner of the Plaza Azteca at Westchester Commons, confirmed with BizSense he has purchased the space and will turn it into the Mexican restaurant.
The restaurant purchased the 8,000 square foot space at 10099 Brook Road from Chicahominy Group for $1.5 million. Hill City Chop House closed near the end of December and Fernandez said he plans to open sometime in April.
This will make four Plaza Azteca locations in Richmond including the one in Midlothian and two on West Broad Street. The Hampton Roads-based chain has locations around Virginia, Pennsylvania, Ohio, North Carolina, Massachusetts and Connecticut.
Also happening on the Mexican restaurant scene, a third Mariachi's Mexican Grill is under construction in Ashland near the Bass Pro Shop.
David Gil, who also owns a few Plaza Aztecas about town, opened his first Mariachi's on Midlothian Turnpike in the Pocono Crossings shopping Center this summer. He also opened one in the former Uno's Grill spot on Hull Street Road.
Gil spoke with BizSense in June about his restaurant plans including a Moroccan-themed restaurant called Riad on West Broad Street in the Gold's Gym Plaza that is near completion.