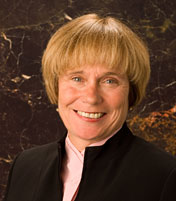 It's not going to be a seller's housing market for a while longer, according to a longtime Virginia banker and Federal Reserve board member who spoke at the University of Richmond on Monday.
Elizabeth Duke, a member of the board of governors of the Federal Reserve System, told a packed Camp Concert Hall that between 4 million and 5 million properties in the United States are either in foreclosure or are soon going to be in foreclosure.
Duke said the "huge percentage" of distressed properties are weighing on home prices. Things won't improve very much until those foreclosures are cycled through the market, she said.
One program Duke highlighted was a recent proposal by the Fed to convert foreclosures into rental properties by selling them to investors in bulk, which would theoretically speed up the process of getting foreclosures off the market and boost new and existing home sales.
Duke took her position on the board in August 2008, the height of the financial crisis, a time that she described as frightening.
In her speech, she defended the actions of the Fed during and since the recession, saying they prevented a much worse situation from developing.
"Every action the Fed took was directed at improving the economy rather than the well-being of the banks," Duke said.
Duke has strong ties to Virginia. She was chief operating office of Suffolk-based TowneBank and the chief executive of Bank of Tidewater, a former Virginia Beach-based bank.