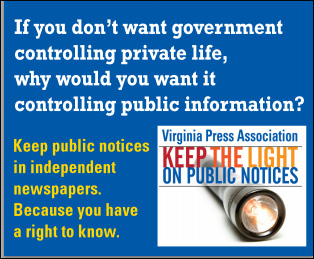 Despite a recent preemptive campaign to dissuade him, a Virginia delegate has renewed his push to change the rules that require public notices to be published in newspapers as paid advertisements.
Del. Steve Landes (R-Rockingham) last week introduced legislation that seeks to save localities money by allowing them to use cheaper notification methods than paid print ads, such as online listings.
It's a move the Virginia newspaper industry says would make government less transparent. But it also threatens to cut into newspapers' ad revenue.
This is at least the third consecutive year in which Landes has introduced such a bill.
And there are other threats on the horizon for Virginia's struggling newspapers.
Del. Chris Head (R-Roanoke) introduced a bill last week that would give localities a choice to publish legal notices — those that advertise foreclosures, divorces, adoptions and so on — on local government websites, radio or TV.
Legal notices have become a lucrative source of income for print publications, particularly amid declining advertising revenue, and the battle for legal notices has heated up in Richmond among publications such as the Richmond Times-Dispatch and Style Weekly.
The brief text included in Head's legislation reads: "In addition to, or instead of, any requirements that a locality advertise legal notices in a newspaper having a general circulation in the locality, and notwithstanding any other provision of law, general or special, such notices may also be published on the locality's World Wide Web site or advertised on radio or television."
The proposed legislation comes at a time when newspapers are desperate for every ad they can get and when localities are pinching pennies thanks to tight budgets.
Landes's bill targets planning commission proposals, public meetings and similar announcements that localities are legally bound to publish in newspapers.
Anticipating Landes's proposal and with the help of their industry lobbyist, the Richmond-based Virginia Press Association, newspapers across the state recently launched a campaign called "Keep the Light On."
The industry maintains that the campaign is less about a potential loss of revenue and than keeping local governments open and honest.
But legal notices aren't paid for by localities. Lenders, for example, must pay when they advertise a foreclosure, as is required by law.
Ginger Stanley, the executive director of the Virginia Press Association, could not be reached by press time.