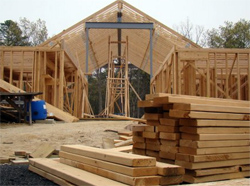 A 108-year-old home builder supplier in Petersburg is closing its doors.
Builders Supply Company of Petersburg announced this month that it will start shutting down and liquidating in February.
In a Jan. 17 letter to its customers, the company said that it had been having trouble for the past four years and that its 72 stockholders voted to close down.
"With the operating losses combined with the financial obligation to buy out the retirees and past employees; the decision was made to stop our business," the letter said.
Jim VanLandingham, president of the company said by phone yesterday that the struggling housing industry has caused the business to take a major hit.
"Over the last four years Builder Supply has not been able to make profit in the housing industry," he said. "Without a better housing industry there is no light at the end of the tunnel."
VanLandingham said the company had doubled its size in the years leading up to 2007.
"The housing market started going south in the fall of 2007 and that's when everything changed for people in our industry," VanLandingham said.
In the last four years, the company has cut back from 70 employees, down to 23.
"I think that speaks volumes of how things are right now," he said.
The closure marks the second major liquidation of a Petersburg-based lumber/truss company. Roper's Brother Lumber, which like Builders Supply made trusses, closed in 2009.
Builders Supply operated on North Market Street in Petersburg and also had a truss plant at East Whitehall Road in Richmond.
It manufactured windows, doors and other materials for commercial jobs. Roof truss manufacturing was another large part of the business.
Of the company's 72 stockholders, 19 were employees. The remaining 53 include 12 retired employees. Builders Supply has been an employee owned company since 2002.
"If we get out now they can still walk away with something," said VanLandingham, who has been with the company for 37 years.