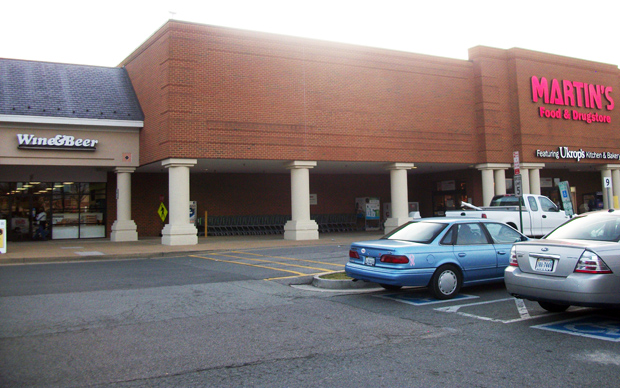 In the two years since Martin's took over from Ukrop's, some Richmond wine sellers have found new meaning in an age-old mandate: Evolve or die.
Chris Anderson, owner of Wine Lovers in Short Pump Crossing, is one of the last wine sellers standing in a Richmond area shopping center anchored by a Martin's, which took over from Ukrop's in 2010.
"The switch was a pretty big impact for people who just wanted a bottle of wine and don't care what they were getting because they were buying for price," he said. "It's taken away the price shopper."
Ukrop's no-alcohol policy had created a steady stream of customers who wanted a bottle of wine with dinner.
Martin's sells beer and wine.
Among local wine shops operating in a Martin's shopping center or near a Martin's grocery store, BizSense counted 10 that closed within the past year or two, including Village Fine Wine and Cigar, Bella Vino at Stony Point, Private Stock Cigar and Wine Company in Stratford Hills, the Belle Kuisine shops in Stony Point and Short Pump Crossing, and Private Stock's locations at Virginia Center Marketplace and the Shoppes at Crossridge.
Sycamore Wine and Cheese in the Sycamore Square Shopping Center in Midlothian, which has Martin's as an anchor tenant, has also closed. Vineyard's Corner, which that had a five-year run in the Martin's-anchored Chesterfield Meadows shopping center, closed in April.
And Wine and Beer Westpark, which was next to a Martin's on West Broad Street, announced its closing just last week.
Anderson said Martin's isn't solely to blame for the sour grapes.
"The economy has been down for the last four years, so it's a combo of the two," he said.
"The last two years have been flat, but down from five years ago," Anderson said. "But any retailer would tell you that."
Peter Bunin, a commercial broker for S. L. Nusbaum Realty Co., a landlord for many of the Ukrop's locations that helped develop many of the strip malls, said Martin's has wine shops a little wary of signing leases.
"No one in any classification is as anxious to sign leases as they were pre-recession," he said. "If it were still Ukrop's, I would have 14 people calling me."
Of course, a number of wine shops are still going strong, such as Barrel Thief in Short Pump, the Wine Cellar in Midlothian and J. Emerson on Grove Avenue, which has been around since 1985.
But Ben Harris, co-owner of Once Upon a Vine South in the Stratford Hills Shopping Center, said it's been bumpy since Martin's took over.
"It's more of a struggle for us than the big boys that don't have to worry about money so much," he said.
Once Upon a Vine has operated in the shopping center on Hathaway Road for four years with a Martin's close by.
"It has certainly put a little bit of tightness on the business, but it hasn't knocked me out yet," he said. "People enjoy coming to a specialty shop as opposed to the big box stores."
Since Martin's took over, Harris said he's seen three wine shops in his area close.
"It's narrowing down where people can go and get specialty treatment," he said.
That special treatment is key back at Wine Lovers in Short Pump. Although business hasn't been overflowing, Anderson said sales were up about 10 percent in December from the same month in 2010.
"We know who you are and what style of wine you like, and you're not going to get that anywhere else except an independent store," he said. "We have to find out what [customers] want and provide that service. If you're not doing that, you'll go out of business in a hurry."