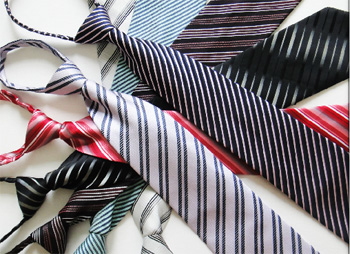 For Ben Shao, struggling to tie a Windsor knot on a dressy outfit is a huge waste of time.
Tired of seeing his friends vexed by the same issue, Shao launched his online-based Zipper Ties in December.
"I noticed my generation just doesn't know how to tie ties properly," said Shao, 30.
He's hoping that Zipper Ties will appeal to young professionals who want to look formal but don't know how — or don't want to know how — to tie a tie.
The ties have a permanent knot and a zipper on the reverse side of the tie. After flipping open the latch on the zipper, the wearer can throw it over his head and adjust the neck size up or down. After securing the latch, the tie stays in place and is ready to rock and roll.
"It's a way for people to have a professional look every single time," he said. "You can't tell the difference."
The ties come in 40 styles and costs about $20 each. Shao said he's looking to target the post-college crowd of snappy dressers who aren't so crafty with a knot.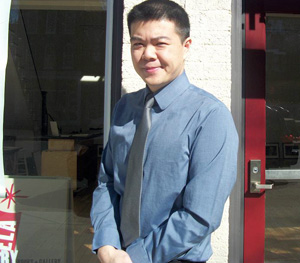 Shao, who grew up in Taiwan but has lived in Richmond the past seven years, got the idea while visiting his family last summer.
"I saw zipper ties in a department store" in Taiwan, he said. "It's a pretty new thing."
Although the zipper tie trend has been picked up by a few bigger companies, such as Casual Male, the Massachusetts-based chain that operates the Big & Tall stores, Shao said there wasn't a local company serving the market.
"I looked online, and there wasn't really anything else out there like it," he said.
In November, he purchased a couple hundred ties from a manufacturer in Taiwan, set up a website and launched Zipper Ties for about $3,500.
For now, Shao sells the ties online and has them shipped to his home in Glen Allen. He said he's sold about 20 ties within the past month.
Shao also said his ties cut down the time it takes people to get ready for work.
"It takes two seconds to do," he said. "It will save two minutes every single morning."
For now, Zipper Ties is just a side gig. Shao works as a pharmacist for Walgreens but hopes to one day take the business on full time.
By this summer, Shao hopes to sell his ties at mall kiosks at Short Pump Town Center and Virginia Center Commons.
"We'll test it out there first and then expand to other malls," he said.
He also plans to sell them to retail stores like Men's Warehouse.