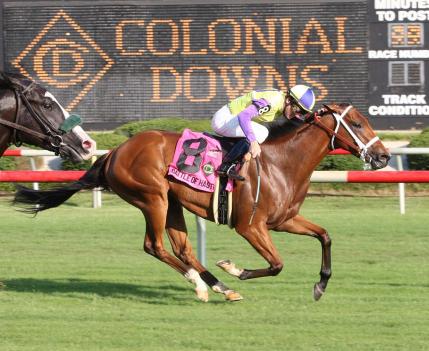 Colonial Downs is betting a renovation of one of its tracks will help light up the stands with more business.
The New Kent County horse track is spending $670,000 to install lights at its turf track for night racing in hopes of drawing a younger audience of gamblers and spectators.
Colonial Downs, about halfway between Richmond and Williamsburg, plans to have its first night race this summer.
Darrell Wood, director of marketing for the track, said the business is hoping to lure a younger crowd and make it more convenient for the after-work crowd to get there.
"It's a chance to keep people we've got and invigorate the 23- to 30-something audience in making this another weekend/evening option," he said.
Wood said the later race time — 7 p.m. instead of 1 p.m. — should allow people who normally fight the I-64 traffic more time to get to the races.  And Wood said the later starts should mean less trouble with the brutal summer heat.
Colonial Downs is moving the existing 33 lights on the dirt track to the inside of the turf course. Four new sets of lights and poles will also be installed. Work began in December, and Wood said the project is expected to be complete by early March.
Wood said that other tracks across the country, such as Churchill Downs in Kentucky and Fair Grounds in New Orleans, have added lights for night racing.
Darren Rogers, a spokesman for Churchill Downs, said the track invested about $4 million in 2010 after seeing a huge success with adding night racing in 2009.
"We took a lot of elements that make the Kentucky Derby great, like the food, fashion, the music, and tried to find a way to bring those elements to other events," he said.
"We brought in a live band … [and] when it got dark, a DJ would come on and it turned into an outdoor nightclub type setting."
Rogers said the Friday night events brought in crowds of more than 28,000. A Friday afternoon event normally draws about 7,500 people.
Wood said Colonial Downs scheduled a twilight race last summer to gauge interest and saw attendance increase more than 20 percent.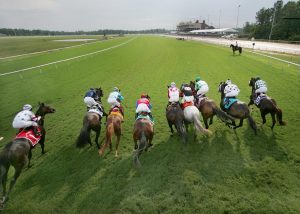 Colonial Downs, like most tracks across the country, is saddled with more and more competition for customers' wagers and their attention.
Bernie Hettel, executive director for the Virginia Racing Commission, said that betting on horse races has declined nationwide but that numbers in Virginia are still faring well.
"The general amount of money wagered in Virginia has been pretty steady the last several years," he said. "Smaller places are suffering because of alternative forms of gaming like slot machines and casinos."
A 2010 report from the VRC found that horse racing generates about $159 million in annual wagering in Virginia. Wagers placed at Colonial Downs totaled $105 million for that year.
Hettel said that the sport is mostly dominated by an aging demographic but that many of the major racing events, like Strawberry Hill and Kentucky Derby, still draw a big college and post-college crowd.
Besides live horse race betting, Colonial Downs also makes money through online betting. And Wood said that part of the business is gaining steam.
Bettors can create an account at kisoks and place bets in various private clubs, bars, and restaurants across the state, seven of which are in the Richmond area.
"What's happened is gas prices have gone up, and people are looking for more convenient way to play horses," Wood said.
Colonial Downs, which opened in 1997, also has year-round wagering in eight off track betting centers in Chesapeake, Martinsville, Scott County, Hampton, Alberta, Vinton and Richmond.