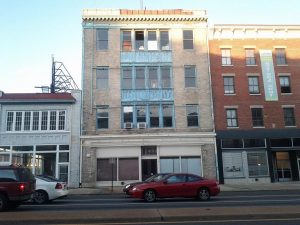 Another eyesore along the West Broad Street corridor near Virginia Commonwealth University might soon get a little sprucing up.
Local general contractor and developer City & Guilds filed a special use permit for 1322 W. Broad St., near the intersection of Broad and Bowe, for a four-story apartment building with retail space on the first floor.
City & Guild owner David Gammino said the company will spend about $3.5 million on the project.
"The finished product is going to look similar to our other buildings," Gammino said. "The apartments will be more on the high end."
The 14,000-square-foot building will contain nine two-bedroom and 10 one-bedroom apartments, according to permits filed with the city.
Joseph P. Yates Architects is the architect for the project.
Gammino said he has heard from prospective commercial tenants for the first-floor retail space but did not elaborate.
The building dates to about 1910, according to the Historic Richmond Foundation, and is near the Siegel Center.
That area of Broad Street has seen an influx of development in recent years, including the Coliseum Lofts student housing and several other major renovations, mostly fueled by the growth of VCU.