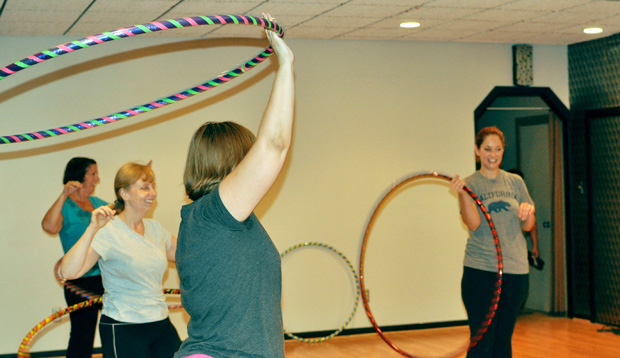 Hula-hooping is moving beyond the playground: It's now the centerpiece of a gym class that can burn almost 500 calories an hour.
In January, Stacy Abbott launched Hoopin' and Groovin', a fitness startup that teaches adults how to swivel the plastic rings around their waists.
Her Monday night classes at Mom's Treehouse, a fitness center in Short Pump, explain the basics of hula-hooping as well as some moves that might be more appropriate for a Barnum & Bailey show.
"[We] raise the hoop over the head, waist hooping, the chest, legs, neck, the thigh, hooping that takes it off the body, such as hand hooping," Abbott said. "We do it all."
She started out with a $50, four-week introduction series and saw about 10 people.
"It was mainly waist hooping, learning the different stance and how to walk and spin," she said.
After seeing more and more people coming to try it out, Abbott decided to spin her startup into high gear.
"It seemed like demand called for it," she said.
She launched a hoop punch card for people to buy a three-, five- or eight-class pack. Prices range from $34 to $62.
Abbott said her classes are a combination of fitness and dance. She now has 50 students.
About two years ago, Abbott tried a hooping class at Project Yoga in Richmond.
"It sounded like fun, and I could never do it as a kid so I thought, all right, I'm an adult. I can do it now," she said. "I was addicted."
Abbott said she wanted to share her newfound love and talent with others looking to master the skill.
"I started taking classes, and I haven't wanted to put it down since," she said. "I really like teaching and sharing this."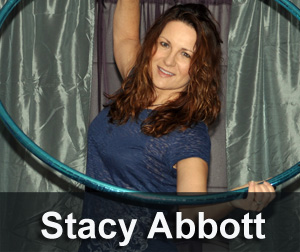 She started looking for a space to teach the classes last fall and in the beginning of January leased 3,000 square feet in the Mom's Treehouse studio in the John Rolfe Commons in Short Pump.
Abbott said it didn't cost much to get her startup off the ground. She didn't share numbers, but mentioned her expenses included licensing, certification, insurance and purchasing materials to make 25 hoops for the class.
As with any fitness craze, people want to see results.
"You're using your upper body, arms, leg, and core, so it's considered a total body workout," she said. "You can burn 450 calories in an hour."
And she isn't the only one to come up with a novel way for adults to feel the burn.
Local Barre, a fitness studio in Short Pump, whips people into shape with classes that combine yoga, ballet and Pilates.
And Studio X, which uses pole dancing as a form of exercise, has a new location.
Abbott said hula-hooping is starting to catch on as a way to work out.
"It is a trend," she said. "Not so much here in Richmond quite yet, but across the country. YMCAs and recreation centers around the U.S. offer hooping classes."
Abbott said students come from all over to try out the class.
"I have people that come from Chesterfield," she said. "I have a girl that travels from Hampton for the classes."
Abbott, 48, has worked the past 20 years as an office manager for a local air-purification company. But she still hula-hoops daily.
In June, she'll be teaching a class on hula-hooping at the Virginia Museum of Fine Arts.