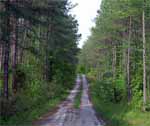 A giant parcel of undeveloped land in Chesterfield is slipping deeper into the legal morass.
Maryland-based Monument Bank filed a lawsuit last week against Fairweather Investments LLC, the out-of-town owner of the 1,400-acre Burrus Land Tract.
Monument Bank claims that Fairweather defaulted on about $3 million worth of loans secured by a deed on the Chesterfield property.
The loans were also personally guaranteed by David Fairweather and Jane Fairweather, two real estate agents from Bethesda, Md.
It's the second suit filed in recent months involving Fairweather and its land, which consists of 1,435 acres and is larger even than Roseland, the stalled 1,300-acre project that is often touted as the last great piece of undeveloped contiguous land in the county.
The first suit was filed in Chesterfield County by local developers George Emerson and Philip Roper, who sought to protect their interest in the 1,400 acres after another bank threatened foreclosure against Fairweather
Emerson and Roper bought a 30 percent stake of the land from Fairweather. The land is located off Nash Road, not far from the Highlands, a golf and country club development also developed by Emerson.
In addition to the loans taken out with Monument Bank, Fairweather had borrowed another $6 million from another bank using the entire property as collateral. Those loans also went into default.
In December, Washington Savings Bank won two judgments against Fairweather Investments for $2.4 million.
Now Monument Bank wants its money.
Monument Bank says in its suit that it has been unable to collect from Fairweather Investments or the Fairweathers. The bank has asked the court to grant it judgments against all three for the money owed plus interest.
"The bank has made proper demand for repayment on all defendants, but defendants have failed or refused to repay the amounts due," the suit says.
LeClairRyan attorneys Vernon Inge and Corey Booker, who are representing Monument Bank, declined to comment.
Monument Bank chief executive H.L. Ward did not return a call by press time.
David Fairweather did not return a call by press time.
Bill Bayliss, an attorney with Williams Mullen who representing Roper and Emerson in their case against Fairweather, also could not be reached for comment.