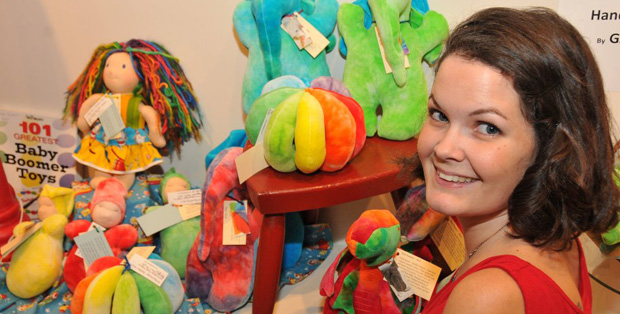 Gail Baker has sewn her way from hobbyist to business owner.
Four years ago, Gail Baker launched her home-based business Bright Life Toys, selling animals, dolls and other toys that she designs, sews and stuffs by her lonesome.
"I love sewing so much I can't get enough of it," she said. "I get cranky if I can't get in my studio."
She sells about 30 toys on such websites as Etsy.com, Hyenacart.com and Crunchy Congo.
Baker, whose mother taught her sew when she was 5, said the toys are targeted to infants and children. And customers are snatching up the toys faster than Baker can churn them out.
She does about 98 percent of her business on Etsy, a hub for people to buy and sell handmade or vintage gadgets. She wouldn't share revenue numbers but said she makes a couple of sales per day.
"Since I switched to Etsy, it's grown tremendously," she said. At "Christmastime, inventory explodes."
Baker said she avoids plastic like the plague. Instead she uses wool, cotton and organic bamboo velour, a soft fabric made of cotton and bamboo. Baker hand-dyes the fabric, purchases wool from a farm in Rappahannock and sews all the toys together.
She started out making toys for her kid in 2006 and hatched the idea for the startup after millions of Fisher-Price and Mattel toys that came out of China were taken off the market here.
"I was looking through my son's toy box and had to get rid of so much stuff," Baker said. "I started it simply for safety sake."
Betting that other parents would latch on to the idea, Baker took to diaperswappers.com, an online parenting forum, to sell her products.
After seeing a good response and with a collection of four sewing machines, Baker put the needle to the fabric and launched Bright Toys for a couple hundred bucks.
She sold her products on the forum for a few years before expanding last spring on Etsy.
"They did great, but I needed a larger target audience," she said.
Baker crafts stuffed elephants, dinosaurs, pretend food and Waldorf dolls in a studio in her Chesterfield home. Her toys range in price from about $10 to $145, and they cost between $60 and $70 to make. She stockpiles about 100 toys regularly.
The Waldorf dolls, which are dolls with no nose and blank expressions, are priced higher because they take the most time to make.
"There's a lot of wool I use for the hair, which I spin myself and hand dye," she said. "It's a 24-hour process."
Toy startups seem to be gaining popularity with parents looking for the latest toy trends.
Toyconomy, a Goochland startup that allows people to rent toys, launched two years ago. Similar startups, such as BabyPlays.com and Toygaroo.com also surfaced within the past few years.
Baker, 29, has a degree in culinary arts from Johnson & Wales. She ran the kitchens at the Marriot in Williamsburg and the Residence Inn before deciding to branch out.
"Chefs are never home, and it's not conducive to raising a family," she said.
Switching from making meals to making dolls has been a smart move for Baker.
"I could say right now I make enough to count as a job," she said. "I make more now than I ever did not working for myself."
Her husband, who works as a spokesperson for Fort Lee, urged her to turn her hobby into a business.
"I was making the toys for my kids, and he was always like, 'You should sell that,'" she said.
Baker said the hardest part is balancing her roles as entrepreneur, wife and mother.
"At Christmas, no sees me," she said. "I don't hang out with my friends."
In addition to online sales, Baker has five wholesale accounts: selling her toys to Gnomes Nook, a store in Colorado, Minnesota-based Tiny Owl Market and Franklin Goose in Carytown.
Sheri Doyle, co-owner of Franklin Goose, said her store started carrying Baker's Waldorf dolls and pocket gnomes about three months ago.
"We try to support local business whenever possible, and we were looking for a type of Waldorf doll and we found her," Doyle said. "They're priced well, and we love the fact she uses local wool."
Baker is keeping Life Toys a one-woman show for now, but within the next five years she plans to bring on a friend to help out.