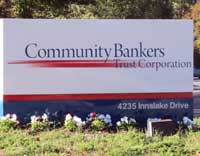 After more than a year of missed TARP payments to the U.S. government, a local bank wants to get current.
Essex Bank and its holding company, Community Bankers Trust Corp., are seeking approval to once again begin making payments to the TARP Capital Purchase Program.
Its board of directors last week gave the green light, but two large obstacles remain: federal and state banking regulators.
Essex Bank is prohibited from paying dividends per a written agreement it signed in April 2011, unless it receives permission.
The bank said last week that it is awaiting the result of a regulatory examination.
If approved, Essex would the first Richmond-based bank under a written agreement to begin making its dividend payments.
Essex and CBTC have missed six TARP dividend payments, which are due each quarter to the tune of $221,000. And the clock is ticking.
Deferred dividend payments are cumulative. Therefore, CBTC has a tab with the U.S. Treasury of about $1.32 million, on top of the $17.6 million it would need to come up with to exit the TARP program.
Also putting pressure on the bank is a provision in TARP that allows the Treasury to take two seats on the board of any bank that misses six payments.
Essex has hit that threshold, but it said last week that the Treasury has not requested to exercise its right for the board spots.
Powhatan-based Central Virginia Bank last year was the first local bank to hit that threshold. The Treasury has not yet taken board seats.
CBTC chief executive Rex Smith did not return a call by press time.
In a prepared statement, Smith said the bank had hoped to be able to receive the results of its regulatory exam in time to make its latest TARP payment, which was due last week.
"We had a good examination, and it is unfortunate that the timing of formal regulatory approval and the deadline for this TARP payment did not coordinate favorably," Smith said in the statement.
"One of our primary goals is to catch up all payments due, and ultimately to pay off our entire TARP obligation, as earnings and our capital needs permit."
The attempt to begin making TARP payments is a good sign. CBTC lost $30 million in 2009 and another $20 million in 2010. It managed to get back in the black in 2011, posting a profit of $354,000.
The bank had $1.09 billion in total assets at the end of 2011. Of those, $40.8 million were non-performing, made up of bad loans or foreclosed real estate.
The big losses in the past were due in part to setting aside bundles of cash to cover those bad loans.
Essex has been hit hard by loans on large land development deals. It is owed millions from Roseland, a massive stalled development in Chesterfield that is trying to work its way through bankruptcy. It also was left hanging by the Tetra Companies, a developer from Virginia Beach that has seen its holdings in Richmond go into foreclosure.
Essex Bank has 24 branches, including 13 in Virginia, seven in Maryland and four in Georgia. Its holding company is headquartered in Innsbrook.