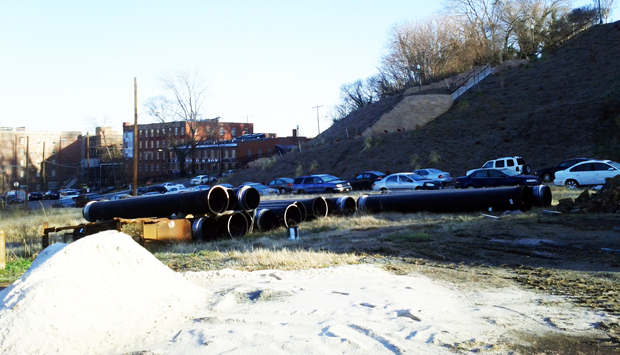 A local developer is getting closer to building a large apartment building at the border between Church Hill and Shockoe Bottom and hopes to break ground within the year.
Fred Cox of Marcellus Wright Cox Architects said designs, costs and financing had not been set for the building at 1903 E. Marshall St. because the firm was still working with the city and waiting for a final architectural approval. The finished product should be four stories and between 120 and 130 apartments.
The project, which sits on an acre of vacant land, is being developed by GTR Cedar, LLC, which was formed for the development and is composed of Marcellus Wright Cox Architects and private investors.
"The project is highly needed," Cox said. "There are some big engines in this town, between the student populations at [Virginia Commonwealth University and Medical College of Virginia]. The condo market has slowed, but we think Richmond is going to need housing, and this is a great location."
Indeed, hundreds of units have opened within a few blocks of the location in the past year, including at 2001 East Broad St. and a bit father downtown at Cedar Broad Apartments.
The planned complex will feature mostly one- and two-bedroom units and will have a pool and a belowground parking deck that can accommodate all the residents, according to documents filed with the city.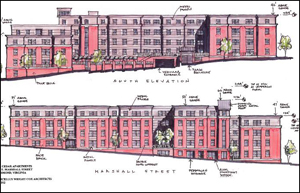 Cox said the building has been a long time coming. The developers purchased the land for $840,000 in 2004 and in 2006 had the property rezoned for mixed residential and business use. Because the building is in a historic district, it had to be approved by the Committee of Architectural Review.
Cox filed an application with the committee Nov. 18. He is awaiting final approval.
The building isn't without controversy. The Union Hill Residents Association is worried that the building is too tall and could obstruct the view of the city from Jefferson Park, which sits atop a hill behind the property.
Elaine O'Dell, a member of the Union Hill Civic Association, said that the height of the proposed building is a sticking point.
"Population growth in the Bottom is a good thing in how it relates to Church Hill and Jefferson Park," she said. "The more people who move in and use Jefferson Park, the safer it becomes. Our main problem is the height of the building."
O'Dell also said Union Hill residents didn't want any HVAC units or other structures protruding above the hill and spoiling the view of downtown.
In a Feb. 3 filing with the committee, Cox said the building would be "well below the crest of the park on the hill."

View Larger Map