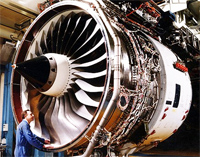 British jet engine manufacturer Rolls-Royce is planning a second factory that will bring 140 more jobs to the region, Gov. Bob McDonnell's office announced Tuesday.
The governor's press release said the final plans were still being reviewed, but if everything is in order, the company will break ground in Prince George County on a 90,000 square-foot factory late this year to make parts for Boeing and Airbus jets.
The building will be adjacent to the under-construction, 180,000-square-foot disc manufacturing plant. That factory, a $170 million investment, will add 150 jobs to the region.
Rolls-Royce announced in 2007 that its Virginia complex could bring 500 jobs to the area. This is the second phase of the development.
Rolls-Royce did not say how much the new factory would cost, saying only that it was a "major investment." Calls to Rolls-Royce and the governor's office were not returned by press time.
Rolls-Royce should complete construction by 2013 and have the factory operating in 2014, according to a release.
The company's CEO James Guyette said Rolls Royce is looking to build even more at the site.
"Our vision for Crosspointe is to create a hub of advanced manufacturing innovation," he said in the release, adding the company wanted to work with universities, government and businesses to create jobs.