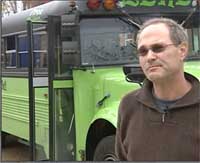 No one is happier to see Jim Porter than the bar-hoppers and partygoers of downtown Richmond. Porter, who mans the green-and-black To the Bottom and Back buses, can be seen three nights a week shuttling passengers to and from Carytown, Shockoe Slip, Shockoe Bottom and the Fan.
Since he started the nonprofit in early 2010, Porter's three buses have been packed with hundreds every weekend. He's expanded with six drivers and a route to the Virginia Museum of Fine Arts, and he recently snagged some funding for a new tourism route he's been planning.
BizSense caught up with Porter to find out about the new routes, what's to come for 2012 and whether he still enjoys shuttling the screaming bar-hoppers around.
Richmond BizSense: Tell us about the new tourism route.
Jim Porter: The first weekend of next month, I'm going to launch a tourism route that's funded by local businesses and the city. Two buses will run all day and go to Church Hill, by the train station, St. John's Church, the Farmers Market, the Valentine Museum, the Maggie Walker Museum, the Science Museum, Maymont Park and Carytown every 50 minutes. The city put up $13,000 and Dominion Power, the Omni Hotel, the Science Museum and a few other local businesses have put up $13,000 so we can run it for a whole year.
RBS: Do you think that will be something that will draw a lot of people?
JP: It's the first one, so I think this tourism route will be a big deal. We did the Picasso exhibit, and that brought a lot of people to the city. People come to Richmond and say hey, what's there to do? I want to educate them on the different museums and what's going on.
RBS: How's business been?
JP: It's been great. The past few weeks, I've been running a shuttle for the "Lion King" show. Last Thursday was our busiest: The [Landmark] held a matinee, and we shuttled 400 people. I took three busloads back and forth a night.
RBS: Last year you told us you were picking up 3,000 people a weekend. What about this year?
JP: Numbers are close to the same, because I'm down to three buses. Through the course of the night, the bus is still packed up to eight or nine times. The happening spot is Off the Hookah. We move a couple hundred — maybe more — a weekend there, and Chas Chas too, that's pretty big. We move gobs of people to the Fan. In Carytown, the Byrd Theatre is huge. We go by there 20 times a night.
AT&T told me this phone number gets more phone calls than any number in the region. I couldn't even tell you how much it rings, over 1,000 times a night. From 10 p.m. on, it's a madhouse. It dies down at 1 a.m., then at 2 a.m. everybody's calling.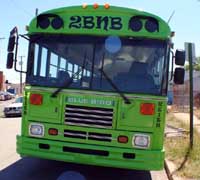 RBS: Last March we covered a Short Pump route you were trying to get going. Did that take off?
JP: I started that right at the time the school year started, and we just weren't able to do it. I only have three buses, so we're limited in what we can do. I've met some amazing people out there, and I think with more sponsors and buses we will have the Short Pump route.
RBS: Any other routes that didn't pan out?
JP: I did a trial run to Rocketts Landing in December. The Conch Republic wanted to sponsor it, and it was a good time for that month because they had the boat show. Thousands of people come out for that. It did all right, but it's a lot harder to put that on the continuous loop unless we had another bus. But I would love to continue that.
RBS: What about the local universities? Do you have routes going there?
JP: This week, I started an off-campus living tour for VCU, which is really cool. Parents and students get to see the Fan and the area. I started running that last year. VCU students have been a big push that's kept ridership up. We've been packed from ridership since the first two weeks I started. I got some good sponsors because of VCU. We run buses for students at the University of Richmond, too.
RBS: Speaking of sponsors, how many do you have?
JP: About 12. I recently picked up Elephant Insurance, and last year I picked up Emroch and Kilduff. They're one of the big ones. It's nice to have corporate sponsors. AAA is another big one.
RBS: Since it's a nonprofit, what else have you been doing to get funding?
JP: Last year we did a few bar crawls to raise money. We went to Cha Chas, F.W. Sullivan's, Star Lite, Buddy's and Banditos. We did about 10 or 15 altogether. We never put anything together — we had some organizations come to us to do a fundraiser for us. They would make donations if we provided transportation for the crawls. We did one for $3,600, one for $1,500 and one for about $1,900. That was very successful.
RBS: The craft beer scene is on the rise. Any plans for a route to the breweries?
JP: To be able to take groups to Legends or a beer tour — I would love to have something like that. It would be cool to do a tour, but it's hard for us to orchestrate things like that. We just have to have the capital and the manpower to do more. It's a matter of having drivers and having sponsors.
RBS: Are passengers still pretty friendly? Any rowdy or funny events lately?
JP: Oh, yeah, everyone's still friendly. We haven't had anything too out of control, nothing that doesn't happen in bars. Every once in a while, people get a little hot, but I let people know if you act stupid, you're getting off the bus. The city is looking for any reason to shut this down. The hardest thing is if someone falls asleep and they don't have their ID on them, but we just give them a pillow and prop them up.
RBS: Do you still enjoy it, or are the late-night partiers starting to get old?
JP: I do. It's really draining and financially broken me, but I know what we're doing is keeping people safe. I can't begin to tell you how many parents call me Sunday or the following week or have sent letters thanking me and telling me their son or daughter told them about us. I know I've kept people from getting DUIs.
RBS: What are your long-term plans for To the Bottom and Back?
JP: There is no other nonprofit like this in the country. I plan on taking this across the country. I'd like to put four more buses on this year. I think I could do that for close to $25,000.