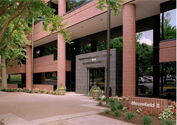 One REIT is now officially out of Richmond, while another investor group is coming into town for the first time.
Florida-based real estate investment trust Parkway Properties sold five Midlothian office buildings, the last of its local holdings, to Hertz Investment Group for $25 million. The deal, which BizSense first reported in January, closed last month.
The properties, Boulders Center, Moorefield I, Moorefield II, Moorefield III and Winchester Building, total almost 420,000 square feet of office space and are about 75 percent occupied, according to a news release from Cushman & Wakefield | Thalhimer.
Parkway Properties Chief Financial Officer Richard Hixon did not return a call for comment.
Parkway also sold a building at 7130 Glen Forest Drive to Lingerfelt Development last summer.
"Parkway for a number of quarters had said they were committed to getting out of this market," said Eric Robison, the Thalhimer broker who handled sale.
The properties are about 10 percent of the total office space in the Midlothian corridor and are the first holdings for Hertz in the Richmond area, he said.
Robison said Hertz emerged as a potential buyer in late November.
"The whole thing moved very fast. It wasn't too tough of a sell. They own in markets like this around the country," he said.